How to Cook Home Style Tofu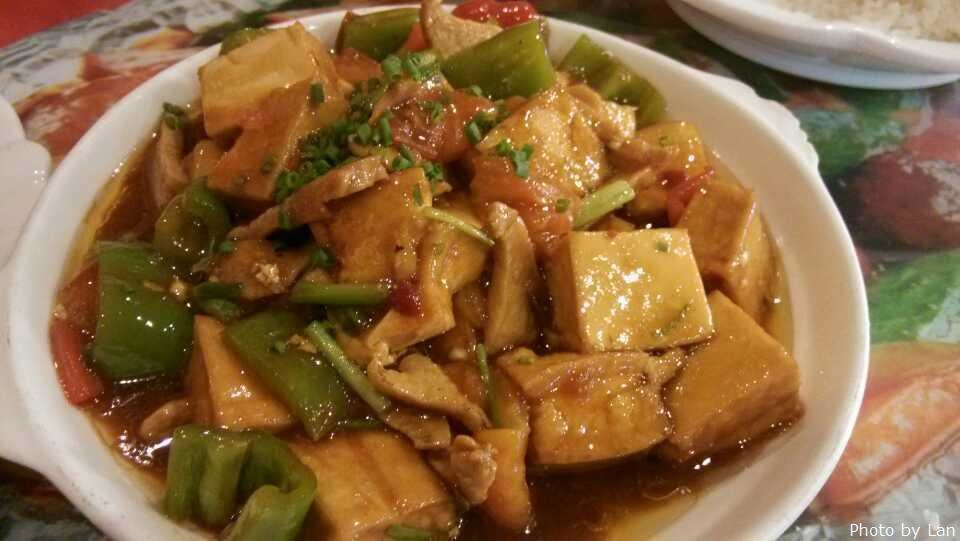 Home Style Tofu
Home style tofu is a salty and slightly spicy taste of Sichuan cuisine. Though it needs many ingredients to give it a good flavor, it is simple to cook. Here is one of the recipes for it.
Ingredients:
1 piece of marinated tofu (about 250g) and 100g lean pork,
Seasonings: 1 green pepper, 1 red chili pepper, 3 green onions, 5g ginger, 5g garlic, 1 soupspoon salad oil, 2 teaspoons light soy sauce, 3 teaspoons corn starch, 1 teaspoon cooking wine, 1 teaspoon white sugar and 1/2 teaspoon broad bean paste
Note: The amount of the seasonings listed above can be adjusted according to personal taste.
Preparation:
Clean and slice the marinated tofu. Cut the tofu diagonally to create triangular tofu slices.
Clean and slice the lean pork. Marinate it with some light soy sauce, salad oil, corn starch and water for about 10 minutes.
Clean and cut the green pepper, red chili pepper and green onion into pieces.
Clean and dice the ginger and garlic into small pieces.
Mix 1 teaspoon corn starch with water.
Cooking Instructions:
Place a wok over a high heat. Add some salad oil and fry both sides of the tofu slices until they become golden. Pick them out and drain the oil.
Put the pork into the wok and stir-fry until it is 80% cooked. Tip it out.
Clean the wok. Add 1 teaspoon oil and the small ginger and garlic pieces. Stir-fry them until they are fragrant.
Add some water, sugar, light soy sauce and cooking wine. When the water boils, add the mixture of starch water evenly.
Add the fried tofu slices and cook them over a low heat for about 2 minutes.
Add the green pepper, red chili pepper, green onion and fried pork. Cook them until the peppers are done.
Finally, the home style tofu is done. Dish it out!

China Highlights
Questions and Answers About How to Cook Home Style Tofu
April Offer $25 Coupon
Send your inquiry before Apr. 30, 2014, and we will email you a $25 coupon.
The coupon is valid till Dec. 31, 2014, for paying tour packages worth $250 or up.
The coupon cannot be used for paying flight tickets, train tickets, hotel rooms and day trips.
Travel Advice or Question? Ask us here