How to Cook Kung Pao Chicken
Kung Pao Chicken, a famous Sichuan dish, is commonly believed to have been discovered by and named after an official from the Qing Dynasty. It is made from diced chicken, peanuts and chili peppers. In some Western countries, this world-famous dish is synonymous with Chinese cuisine.
Ingredients:

400g boneless chicken breast (or legs), 50g fried peanuts, and 10 dried red chili peppers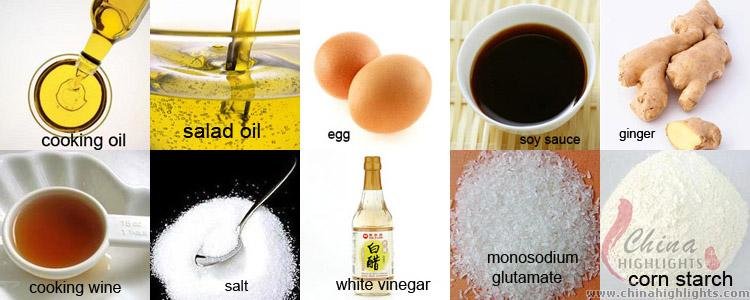 Seasonings: 5 pieces of garlic, 1 egg, 500g cooking oil, 1 teaspoon sesame oil, 1/2 soupspoon soy sauce, 1soupspoon cooking wine, 1 teaspoon white vinegar, 1 teaspoon salt, 1 teaspoon white sugar, 1/2 teaspoon monosodium glutamate, and some corn starch.
Note: The amount of the seasonings listed above can be adjusted according to personal taste.
Preparation:
Clean and mince the garlic.
Clean the dried red chili peppers and cut into small pieces.
Clean the chicken breasts and dice into about 1/2-cm cubes. Evenly mix in the egg white, salt and corn starch.
Cooking Instructions:
Heat some cooking oil in a wok on high heat. Add and fry the chicken cubes until they change color. Drain.
Leave some cooking oil in the wok. Add the minced garlic and dried chili and stir-fry until fragrant. Add the fried chicken cubes and stir-fry for about 30 seconds. Add the soy sauce, cooking wine, monosodium glutamate, sugar, white vinegar, some water, corn starch and sesame oil and stir-fry evenly until the juice concentrates. Add the fried peanuts and stir-fry together.
The Kung Pao Chicken is finished. Dish it out!

China Highlights
Questions and Answers About How to Cook Kung Pao Chicken
ashanarayanshrestha
2012-09-05
Show Answer
what is the main ingredients in chinease cuisine?what is kung pao?
Hi Asha,
The basic ingredients with the five flavors are as follows:
Sweet- molasses, honey, sucrose, saccharin, matose, etc.
Sour-vinegar & ginger, lemon acid, tomato sauce,etc.
Bitter-dried orange peel, etc.
Hot-pepper, mustard, onion, chilli, wild pepper & curry powder, etc.
Salty- salt, soy, fermented soya beans, etc.
Gong pao is a name of an ancient Chinese official.
Whitney Liao replied on 2012-09-06
April Offer $25 Coupon
Send your inquiry before Apr. 30, 2014, and we will email you a $25 coupon.
The coupon is valid till Dec. 31, 2014, for paying tour packages worth $250 or up.
The coupon cannot be used for paying flight tickets, train tickets, hotel rooms and day trips.
Travel Advice or Question? Ask us here