How to Cook Noodles with Bean Sauce
At first, noodles with bean sauce were popular in Beijing, and later there were different kinds of noodle dishes with bean sauce rising up in Shandong, Hebei, Shanghai, Guangdong, Dongbei and even Korea and Japan. This dish is made from noodles, vegetable ingredients and bean sauce. The bean sauce has been fried with diced meat.
Ingredients:
500g noodles, 250g lean pork, 100g mung bean sprout, 1/4 carrot, and 1/4 cucumber
Seasoning: 3 soupspoons cooking oil, 4 teaspoons thick broad-bean sauce, 1 soupspoon dark soy sauce, 1 star anise, some ginger and some green onion
Note: The amount of the seasonings listed above can be adjusted according to personal taste.
Preparation:
Clean and dice the lean pork into small pieces.
Clean and slice the ginger and green onion.
Clean and shred the carrot and cucumber into small pieces.
Cooking Instructions:
Heat some cooking oil in a wok. Add the diced pork and stir-fry until it changes color. Add the thick broad-bean sauce. Stir-fry for a while on low heat. Add the dark soy sauce if you like a salty taste. Add some water until the bean sauce is just submerged. Add a star anise. Cook on high heat. When boiling, turn down the heat and continue boiling until the soup is thick and sticky. Tip out into a bowl.
Clean the wok and pour in some water. Boil the water. When the water boils, add the noodles. When the noodles are soft without a hard core, tip them out into a bowl.
Add the mung bean sprouts, carrot pieces and cucumber pieces onto the noodles. Pour the pork-bean sauce onto the vegetables and noodles. If you do not like raw vegetables, boil them a while before adding them to the noodles.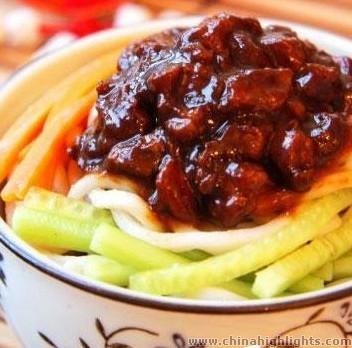 China Highlights
Questions and Answers About How to Cook Noodles with Bean Sauce
April Offer $25 Coupon
Send your inquiry before Apr. 30, 2014, and we will email you a $25 coupon.
The coupon is valid till Dec. 31, 2014, for paying tour packages worth $250 or up.
The coupon cannot be used for paying flight tickets, train tickets, hotel rooms and day trips.
Travel Advice or Question? Ask us here