How to Cook Potato with a Vinegar Flavor
Potato with a vinegar flavor is a dish of home style cooking; it tastes salty, sour and crisp. It is an appetizer, especially in summer. It is simple to cook but needs patience and skill to shred all of the ingredients.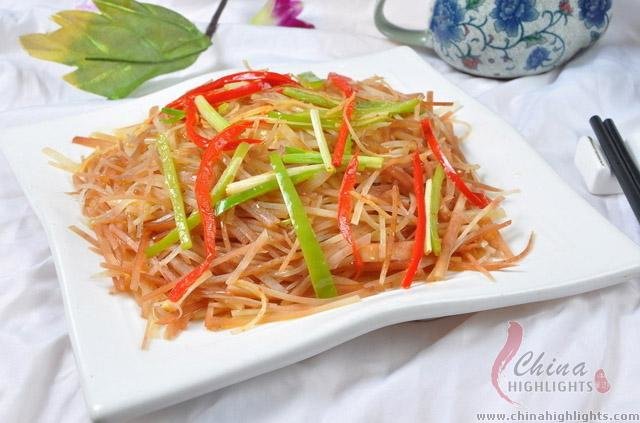 Ingredients:
2 potatoes, 1 green pepper, 1 red pepper and some green onion
Seasonings: 2 soupspoons white vinegar, 1 soupspoon cooking oil, 1 soupspoon white sugar, and1/4 teaspoon salt
Note: The amount of the seasonings listed above can be adjusted according to personal taste.
Preparation:
Peel and clean the potatoes. Shred them into threadlike pieces.
Put the potato shreds into a bowl and soak them with water and some white vinegar for about 10 minutes. Wash the potato shreds twice to remove the starch.
Clean and shred the peppers into threadlike pieces.
Clean and dice the green onion.
Cooking Instructions:
Add some cooking oil in a wok and heat the oil. Add the green onion and stir-fry until it is fragrant.
Add the potato shreds and stir-fry until they change color.
Add the white vinegar, white sugar and salt in turn then stir-fry the potato shreds for about 30 seconds.
Add and stir-fry the pepper shreds with the potato shreds for a further 30 seconds.
The potato with vinegar flavoring is finished.

China Highlights
Questions and Answers About How to Cook Potato with a Vinegar Flavor
April Offer $25 Coupon
Send your inquiry before Apr. 30, 2014, and we will email you a $25 coupon.
The coupon is valid till Dec. 31, 2014, for paying tour packages worth $250 or up.
The coupon cannot be used for paying flight tickets, train tickets, hotel rooms and day trips.
Travel Advice or Question? Ask us here