How to Cook Sautéed Shredded Pork with Sweet Bean Sauce
Sautéed shredded pork with sweet bean sauce is a typical Beijing dish. It's made from pork fillet and sweet bean sauce by the "Sauce Quick-fry" method, which is one of the six unique quick-fry methods of northern China.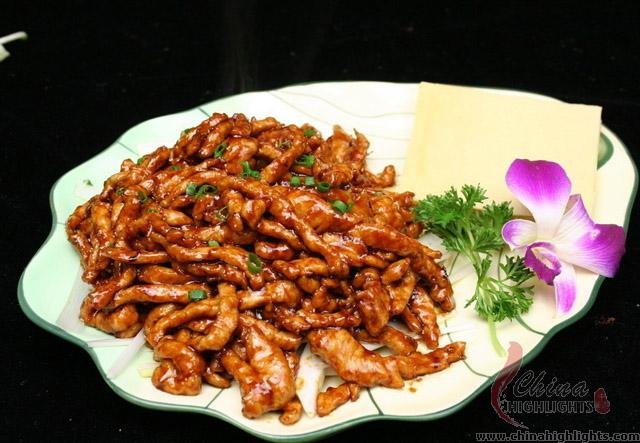 Ingredients:
200g pork fillet
Seasonings: 4 green onions, 250g cooking oil, 1 teaspoon sesame oil, 2 teaspoons soy sauce, 1/2 teaspoon cooking wine, 2teaspoons (tomato) ketchup, 3 teaspoons sweet bean sauce, 1 egg, and some starch.
Note: The amount of the seasonings listed above can be adjusted according to personal taste.
Preparation:
Clean and shred the pork fillet. Starch the shredded pork with the egg white, starch, soy sauce and cooking wine.
Clean and shred the green onion.
Cooking Instructions:
Heat some cooking oil in a wok. Add shredded pork and stir-fry until it changes to a white color. Tip out at once and set aside.
Leave some cooking oil in the wok and heat on high heat. Add ketchup, sweet bean sauce and white sugar. Stir-fry on low heat until fragrant and bubbling. Add the shredded pork and quick-fry on high heat until it has cooked thoroughly and absorbed the seasoning.
The sautéed shredded pork with sweet bean sauce is ready. Dish it out and sprinkle the shredded green onion on top.

China Highlights
Questions and Answers About How to Cook Sautéed Shredded Pork with Sweet Bean Sauce
April Offer $25 Coupon
Send your inquiry before Apr. 30, 2014, and we will email you a $25 coupon.
The coupon is valid till Dec. 31, 2014, for paying tour packages worth $250 or up.
The coupon cannot be used for paying flight tickets, train tickets, hotel rooms and day trips.
Travel Advice or Question? Ask us here