How to Cook Sautéed Sweet Corn with Pine Nuts
As corn and pine nut are the specialties of Northeast China, sautéed sweet corn with pine nuts is a representative dish in Northeast China. Corn is rich in calcium, lecithin, and vitamin E, which can help lower cholesterol levels, resist cell senescence, and slow down brain degeneration.
Ingredients: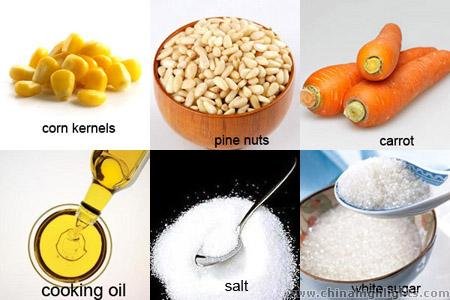 400g fresh sweet corn kernels, 80g pine nuts, 150g carrot
Seasonings: 25g cooking oil, 1 teaspoon salt, 3 teaspoons white sugar.
Note: The amount of the seasonings listed above can be adjusted according to personal taste.
Preparation:
Clean the corn kernels, pine nuts, and carrot.
Dice the carrot as small as corn kernels.
Cooking Instructions: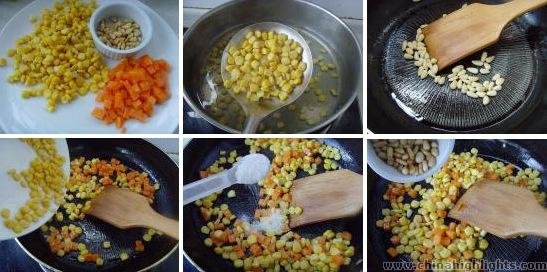 Boil some water, add the corn kernels, and boil about 4 minutes until medium to well done. Drain the corn through a colander.
Put in the pine nuts and roast them until they turn golden yellow and smell. During the roasting, you should roll them. Tip the pine nuts out into a dish.
Add some cooking oil to a pan and heat it. Add the corn kernels and diced carrot, and sauté them for 2 minutes with salt, white sugar, and a little water. Add the pine nuts and stir-fry briefly.
Your sautéed sweet corn with pine nuts is ready. Dish it out and enjoy it.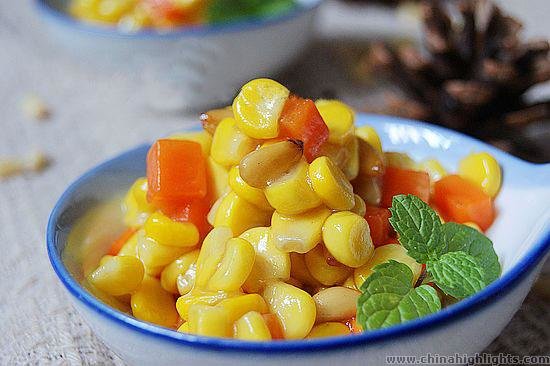 China Highlights
Questions and Answers About How to Cook Sautéed Sweet Corn with Pine Nuts
April Offer $25 Coupon
Send your inquiry before Apr. 30, 2014, and we will email you a $25 coupon.
The coupon is valid till Dec. 31, 2014, for paying tour packages worth $250 or up.
The coupon cannot be used for paying flight tickets, train tickets, hotel rooms and day trips.
Travel Advice or Question? Ask us here