How to Cook Winter Melon Soup with Dried Shrimps?
Winter melon soup with dried shrimps is a simple and delicious home style of cooking. It involves cooking a delicate winter melon with tasty dried shrimps. It is very suitable for pregnant women. The winter melon is full of water and counteracts the summer heat. The dried shrimps are a good source of calcium for pregnant women.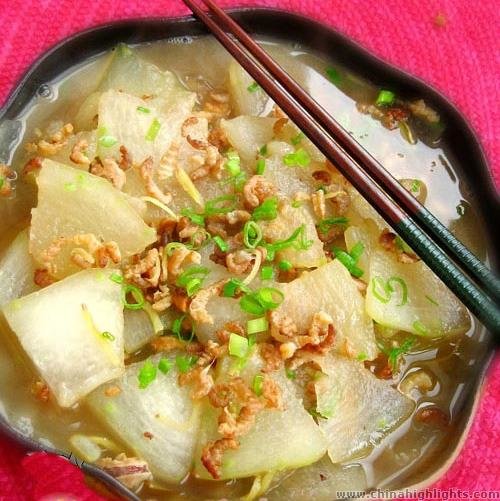 Ingredients:
300g winter melon, 15g dried shrimps, 2g chives
Seasonings: 15g cooked lard, 5g sesame oil, 4g salt, and 2g monosodium glutamate
Note: The amount of the seasonings listed above can be adjusted according to personal taste.
Preparation:
Clean the dried shrimps and soak them for 5 minutes with hot water. If there are any big ones, dice them into smaller pieces.
Peel the winter melon and dice it into pieces.
Clean and dice the chives into small pieces.
Cooking Instructions:
Pour some water and the cooked lard into a pot. Boil the water.
Add the winter melon, dried shrimps and salt into the pot. Boil them for about 8 minutes. Add and mix the chives and monosodium glutamate evenly. Pour the sesame oil into the pot.
The winter melon soup with dried shrimps is ready. Serve it into a soup bowl.

China Highlights
Questions and Answers About How to Cook Winter Melon Soup with Dried Shrimps?
April Offer $25 Coupon
Send your inquiry before Apr. 30, 2014, and we will email you a $25 coupon.
The coupon is valid till Dec. 31, 2014, for paying tour packages worth $250 or up.
The coupon cannot be used for paying flight tickets, train tickets, hotel rooms and day trips.
Travel Advice or Question? Ask us here