Odds and Ends of Chinese Food Culture
Chinese people love to eat and China boasts one of the world's greatest cuisines. During the long period of development of the eating culture, there formed many things about the eating that foreign visitors may find quite different from what they are used to and even feel weird. See dining etiquette in China
Chopsticks
Chopsticks were developed about 5,000 years ago in China. It is likely that people cooked their food in large pots which retained heat well, and hasty eaters then broke twigs off trees to retrieve the food. By 400 BCE, a large population and dwindling resources forced people to conserve fuel.
Chinese eating utensils normally are chopsticks, spoons, bowls. Forks are not used on the table and never can you see knives. It is thought that Confucius, a vegetarian, advised people not to use knives at the table because knives would remind them of the slaughterhouse. It is also thought it is because the Chinese take their meals very seriously, and feel that the meal table should be a place of peace and harmony. The knife could be used as a weapon, and could disrupt the harmony of the table. Because of this, the knife, and anything else that could disrupt the harmony, is banned from the table.
Chopsticks are two long, thin, usually tapered, pieces of wood. Bamboo has been the most popular material of chopsticks because it is inexpensive, readily available, easy to split, resistant to heat, and has no perceptible odor or taste. Cedar, sandalwood, teak, pine, and bone have also been used. The wealthy, however, often had chopsticks made from jade, gold, bronze, brass, agate, coral, ivory, and silver. In fact, during dynastic times it was thought that silver chopsticks would turn black if they came into contact with poisoned food. It is now known that silver has no reaction to arsenic or cyanide, but if rotten eggs, onion, or garlic are used, the hydrogen sulfide they release might cause these chopsticks to change color.
Chopsticks are called "Kuaizi" in Chinese which resembles the pronunciation of other two words, soon and son. Therefore, it is a tradition in some areas to give chopsticks as a gift to newly-married couples, wishing them to have a baby soon.
When using chopsticks to eat, people need pay attention to some rules or common conventions.
Do not stick chopsticks into your food, especially not into rice. Only at funerals are chopsticks stuck into the rice that is put onto the altar.
Do not move your chopsticks around in the air too much, nor play with them.
To separate a piece of food into two pieces, exert controlled pressure on the chopsticks while moving them apart from each other. This needs much exercise.
Most of the restaurants in China now have forks available. If you are not used to chopsticks, you can ask servants of the restaurant to provide you with forks or spoons. Some restaurants will serve several kinds of eating utensils for your choice before you ask and a few have descriptions and pictures available showing how to use chopsticks and some
Picture on the right will show you how to use a pair of chopsticks.
"Thank you" Gesture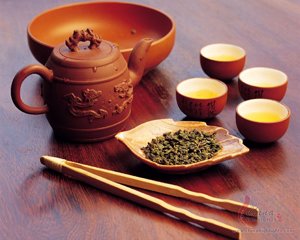 Tea usually is served as soon as you have a seat in a restaurant. The servant serves you the tea cup and pour the tea for you when you read the menu and decide what to order. The tea pot is left with you on the table after the cup of every customer around the table is filled with tea, in order that you may serve yourself when you need more. When the servant pours the tea in one's cup, he or she often tips the table with his or her index and middle fingers for two or three times, showing the meaning of thanking the servant for his service and of being enough of the tea. The servant will stop pouring when seeing the gesture.
Drinkable Water
Water is easily available in China, but please don't drink water that comes out of the tap. Drinkable water is available at restaurants and hotels. Very few cities, like Hong Kong and Guilin, have public direct drinking water system available. Highly suggest you take, when traveling, with you bottled spring water which can be bought anywhere at the station stalls and supermarkets.
Eating Ambience
Being surrounded by much loud talking and laughing that is usually heard in the market is a typical ambience at a Chinese restaurant. People like jollification when having a gathering and having meals undoubtedly can not be of exception. People regard it as a rule to judge if the dishes of a restaurant are of good taste that whether the restaurant is noisy or not, because the crowds at the restaurant indicate the deliciousness of the dishes. If you want a quiet place to enjoy your meals, restaurants also provide individual small rooms which Chinese people call "Baoxiang".
Related Reading

China Highlights
Questions and Answers About Odds and Ends of Chinese Food Culture
i want to go to the lost city of atlantis.Can you help me
Hi Jhon, sorry, we do China tours, we are not able to help you with this.
Whitney Liao replied on 2013-02-25
halie
2012-11-20
Show Answer
who invented the fork? when was the fork invented?
Hi Halie. It is recorded that Sumerians invented the fork in around 4,000 BC. Annie Wu replied on 2012-11-21
toyuo
2010-05-20
Show Answer
what is all the eating untilisuls for eating chinese food
Hi, Chinese people mainly use chopsticks, which can be very tricky for westerners who are used to forks and knives. Please refer to ( http://www.chinahighlights.com/travelguide/chinese-food/ ) for more information about Chinese Food. Mia Yang replied on 2010-05-20
April Offer $25 Coupon
Send your inquiry before Apr. 30, 2014, and we will email you a $25 coupon.
The coupon is valid till Dec. 31, 2014, for paying tour packages worth $250 or up.
The coupon cannot be used for paying flight tickets, train tickets, hotel rooms and day trips.
Travel Advice or Question? Ask us here