Southern Minority Food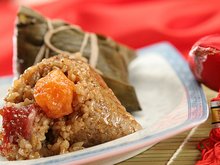 China's south, mainly Yunnan and Guizhou provinces and Guangxi Zhuang Autonomous Region, has the greatest concentration of ethnic minorities anywhere in China. The Zhuang, Miao, Yi, Yao, Bai, Dai, Dong, Hani, Naxi, and Shui are some of the biggest and most notable groupings. Rice and corn (maize) and the staples for most of China's southern minorities.
The minorities of the South are generally poor to subsistence-level farmers, living on or among the mountains, so their daily food is mostly grown locally, often on their own garden plots. Meat is usually reared at home, bought locally or caught. Southern ethnic food is typically sour and spicy, simple and full of natural ingredients, with little wastage. Hotpots and fast-frying are the typical cooking methods.
Oil tea, home-brewed rice wine, and sticky rice made into rice cakes (粑粑 baba /baa-ba/) and glutinous rice wraps (粽子 zongzi /dzong-dz/), are popular amongst several minorities. They often produce their own home-smoked meats.
Guangxi Minorities
Zhuang foods include oil tea, sticky rice cakes, and pork-stuffed snail shells. Multicolored sticky rice is eaten on Tomb Sweeping Day and the Zhuang Song Festival. The Yao are most famous for their oil tea, a broth of fried tea leaves, and their foods include sweet potato noodles, mugwort rice cakes (艾叶耙 aiyeba /eye-yeah-baa/), stuffed bitter cucumber, and stuffed green peppers.
Guizhou Minorities
In Miao culture a chicken or duck is usually killed to entertain a guest and sticky rice cakes are exchanged as tokens of love. Yi meals are based on buckwheat, corn and potatoes, and meats are often cooked in large joints.
Yunnan Minorities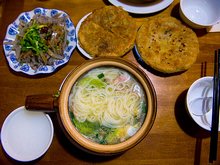 The Bai make a lot of pickles and pork dishes. Dai cuisine has a lot of Thai influence. Sour and spicy food, wild vegetables, and blood cakes are eaten by the Hani of Southwest Yunnan. Mushrooms stuffed with pork are a Naxi specialty, and butter tea is popular in the mornings. The Shui have a more limited cuisine, including glutinous rice, pork and beef bone hotpots, and steamed fish, with chilies, tomatoes, and pickles
Related Pages

China Highlights
Questions and Answers About Southern Minority Food
April Offer $25 Coupon
Send your inquiry before Apr. 30, 2014, and we will email you a $25 coupon.
The coupon is valid till Dec. 31, 2014, for paying tour packages worth $250 or up.
The coupon cannot be used for paying flight tickets, train tickets, hotel rooms and day trips.
Travel Advice or Question? Ask us here