Green Tea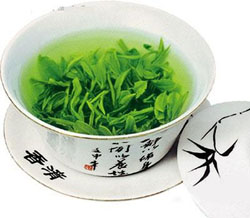 Green tea is also called unfermented tea. It is made with the new shoots of appropriate tea trees as raw materials, by applying the typical techniques of inactivation, rolling and drying. According to the drying and inactivation techniques, it is sub-divided into stir-fried green tea, roasted green tea, sun-dried green tea and steamed green tea. Green tea has the characteristics of "green leaves in a clear soup with a strong astringent taste ". It is the tea category with the longest history (more than 3,000 years) and also the one has the largest output in China. Contact Us for Tailor-made Tea Culture Tours.
Benefits of drinking green tea: It helps with anti-ageing, and it also prevents computer radiation and bad breath.
Production Areas: Mainly distributed in provinces of Zhejiang, Anhui and Jiangxi.
Famous green teas include: West Lake Dragon Well Tea, Xinyang Maojian Tea and Biluochun Tea.

China Highlights