Famous Churches and Mosques in China
China is a multi-religious country. Taoism, Buddhism, Islamism and Christianity have all developed quite a following in this country. See introduction of religion in China. Foreign religions such as Islamism and Christianity were spread to China more than 1000 years ago, and with the history and development, many churches and mosques were built, among them there are some magnificent masterpieces. China Highlights has listed for you the famous churches and mosques in China. Contact us for a customized tour
It is the largest and one of the most important Islamic places of worship in China. The construction started in 742 AD, and is a combination of traditional Chinese architecture and Islamic art. The Great Mosque was constructed at that time to honor the founders of Islam in China. Since then many other mosques have been erected across the county.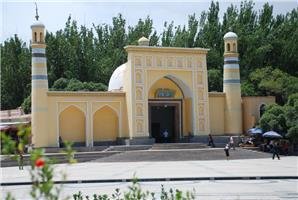 The building complex is in a grand Islamic style with strong religious features, which consists of a gate tower, a courtyard, a doctrine-teaching hall and a big Hall of Prayer. "Idgar" means festival worship and assembling place in the local dialect. Over years, the Idgar Mosque has become a sacred religious place as well as a place for celebrating important festivals.
3.

Dongguan Giant Mosque

Architecture of the mosque combines traditional Chinese style and the local features, with grand appearance and delicate, dazzlingly inside ornaments. The mosque has a prayer hall which can hold up to 3,000 people. Now this mosque serves as an educational center and institution of higher learning for Islamism, and also is the leading mosque in Qinghai.

The Kowloon Mosque and Islamic Centre is a big and beautiful square building with a pink roof and a dome on the top. It is the biggest Islamic mosque building in Hong Kong, and is located in Tsim Sha Tsui where there is a big population of people from Muslim countries. The building was designed by architect I.M. Kadri. It can accommodate about 3,000 people at one time.
5.

Ignatius Cathedral

St. Ignatius Cathedral or Xujiahui Cathedral is a large Roman Catholic cathedral originally built in 1906. As a missionary center, the cathedral grounds once included a library, an orphanage, a college, a publishing house, and its own weather station. Its vast interior of altars, stone columns, Gothic ceilings, stained glass windows, and paintings of the Last Supper and Stations of the Cross are yet another chapter in Shanghai's living history of European architecture.
6.

John's Cathedral

Hong Kong's St. John's Cathedral is the main Anglican Church building for the archdiocese. It is where the Hong Kong archbishop presides. Its style is 13th century English Gothic that was popular for cathedrals about the time the building was built. It is built in the shape of a cross and has a tall front tower. It has clean cut features from the outside, and is beautifully lit and decorated within.
7.

Sofia Orthodox Church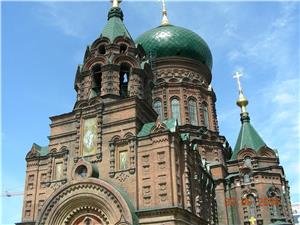 Sofia Orthodox Church
St. Sofia Orthodox Church is the largest Orthodox Church building in the Far East. It was built early in the 20th century, for the Russians and other Orthodox people living around Harbin. The style of the building is Neo-Byzantine. Inside the church there are exhibitions of old photos introducing the history of Harbin and the life of Russians at that time.
Related Links

China Highlights
Questions and Answers About Famous Churches and Mosques in China
April Offer $25 Coupon
Send your inquiry before Apr. 30, 2014, and we will email you a $25 coupon.
The coupon is valid till Dec. 31, 2014, for paying tour packages worth $250 or up.
The coupon cannot be used for paying flight tickets, train tickets, hotel rooms and day trips.
Travel Advice or Question? Ask us here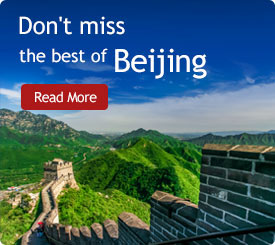 The Most Popular Articles
The Latest Travel Articles