The Arts in China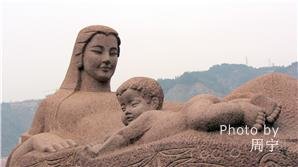 Art is an important part of Chinese heritage and culture. China has excelled in all forms of art for several centuries and shows the Chinese people's love of it. The Chinense art includes performing arts, sculpture, paintings and even cave drawings.
Chinese Physical and Painted Art Through History
China is an artistic country that started developing the unique artwork thousands of years ago. Cave drawings are found throughout the mountainous regions of China and depict nature scenes, people and animals that remain an important theme of the artists even centuries in the future.
As the culture developed and moved away from cave dwellings, the arts throughout the country began to take on a brush stroke design that is still noticeable in modern Chinese art. Despite the gradual improvements and obvious developments in the style of paintings and sculptures, the art retained a central theme that focused on nature and harmony.
The central theme of nature, harmony and the elements has grown and developed with the culture of the country. Chinese history shows that the swirling brush strokes depicting rivers, rocks, plant life and animals retained a similarity that dates back to the original cave drawings.
Physical arts in China include more than just the basic paintings, which also include sculptures, pottery, carvings and calligraphy writings. The pottery from China is particularly well-known around the world due to the technique of using a hard clay combined with feldspar to eliminate any cracks or gaps in the clay. The pottery has developed into the fine porcelain that is seen in modern times.
China is also well-known for the jade carvings that are used in jewelry, home decoration and a wide range of other applications. Jade carvings date back to around 1,300 years and are an important part of the country's rich history.
The sculpture of China is most well-known when it relates to the graves of ancient kings. The sculptures of clay soldiers, horses and servants have been found in archaeological digs. These sculptures have fine detailing that showcases facial features and detailed armor.
Developing Performing Arts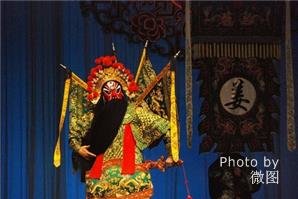 Beijing Opera
Among the many arts found in China is the performing arts. Like paintings, sculptures, carvings and other physical arts, the performing arts in China have a long history. The performing arts range from martial arts like Kung Fu to folk songs and dances that vary by region and area.
The performing arts in China are known to date back to the tribes that occupied the land long before the culture became well developed. As the country began to unify and change, the performing arts took on elements of different tribes to create harmonious performances.
The performing arts in China have constantly grown, developed and changed while keeping elements of the original art. Current performing arts like singing, acting and the traditional Chinese Opera retain many elements that are found in folk songs and dances with a modern twist that incorporates newer instruments and techniques.
Chinese art has a unique aspect that sets it apart from other cultures. With the long history of harmonizing old techniques and themes with newer styles, the country has transformed art. The art from China often has a central theme of nature, harmony and balance that makes it an excellent example of the values that are held within the country. With a history that dates back over 10,000 years, it is no surprise that Chinese art has a developed and unique design that is an important part of the country's history.
Performing Arts
Crafts and Products

China Highlights
Questions and Answers About The Arts in China
Richard DiPasquale
2013-01-09
Show Answer
One of the Casinos has a large Emerald, Can you tell me which it is?
Hi Richard, sorry, I don't know this casino.
Whitney Liao replied on 2013-01-09
dude123
2010-05-26
Show Answer
so how does chinesse culture work????????
Hi, You can visit our Chinese Culture page for more information about this subject (http://www.chinahighlights.com/travelguide/culture/). phoebe replied on 2010-05-26
April Offer $25 Coupon
Send your inquiry before Apr. 30, 2014, and we will email you a $25 coupon.
The coupon is valid till Dec. 31, 2014, for paying tour packages worth $250 or up.
The coupon cannot be used for paying flight tickets, train tickets, hotel rooms and day trips.
Travel Advice or Question? Ask us here