Celebrating Mid-Autumn Festival in Hong Kong
Festival dates: September 19 and 20, 2013; September 8 and 9, 2014
Major events: Lantern Wonderland and Fire Dragon Dance in Victoria Park, Causeway Bay Fire Dragon Dance
The Mid-Autumn Festival is the second biggest traditional Chinese holiday season after Chinese New Year. In Hong Kong, expect the fire dragon and lion dances, festival food and drinks, festival related sales, and crowds of shoppers and tourists on holiday.
To catch the Mid-Autumn Fest, tourists can plan their trip to Hong Kong to arrive during the Hong Kong Mid-Autumn Fest.
The Mid-Autumn Fest is especially popular in southern China, including Hong Kong, and in Vietnam. Expect crowds of Chinese tourists
In China, many people get a 3-day holiday or even longer, and hardworking Hong Kongese get 1-day off for a public holiday. Mainlanders descend on Hong Kong during their holiday.
The Causeway Bay Fire Dragon Dance
Date: 18th – 20th of September 2013
Time: 7:30 PM
Routes: Tai Hang Village in Causeway Bay on HK Island (Lily Street, Ormsby Street, Tung Lo Wan Road)
Transportation: Tin Hau MTR Exit A1
Admission: Free
This annual fire dragon parade started mysteriously in 1880. It is an intangible Hong Kong heritage and tradition. Tangibly, you'll smell the astringent vapors of fireworks and sparklers and your ears will tingle and maybe ring from the clanging symbols and cracking fireworks of the parade.
People line the streets to watch the free public spectacle as a long fire dragon that is about 70 meters (230 feet) long that is held up on poles by many volunteers undulates along in 32 connected sections. May it ward away what plagues you.
It is said that in 1880, a mysterious plague started to spread through the village of Tai Hang on Hong Kong Island after a snake was killed one stormy night. In response, villages did a dragon dance, and they succeeded in ending the plague mysteriously in this way.
Mid-Autumn Fest Lanterns in Victoria Park
Date: September 19th, 2013
Site: Victoria Park in Causway Bay
Transportation: Tin Hau MTR Exit A1
Admission: Free
The biggest Mid-Autumn event is the official Hong Kong Mid-Autumn Fest at Victoria Park. There is a huge expertly designed lantern display, a big fire dragon dance, kungfu demonstrations and folk music, and crafts are displayed.
The same fire dragon contraption used at the Tai Hang parade is featured at Victoria Park.
One old traditions of this full moon harvest festival is to light and hang lanterns. The grandest of all lantern displays is at Victoria Park where city crowds bask in their ambient glow.
The grand display is chosen during an annual lantern competition. The 2011 display made it into the Guinness Book of World Records as the largest sculpture made of lanterns.
Victoria Park is the largest city park on Hong Kong Island. It is not far from the site of the Fire Dragon parade in Causeway Bay.
Autumn Fest Foods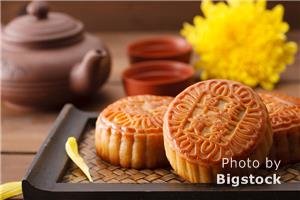 Mooncakes
Mooncakes and fruit baskets are given as gifts and are delicious if the quality is high. They go on sale before the festival. You'll find them at the festival sites.
The mooncakes are usually sweet, small, round, and dense cakes that have nuts or seeds and sugar. Avant-garde designer cakes may have fruit or bean paste fillings and are colorful.
The quality varies a lot though. Try to buy ones made fresh without artificial ingredients.
Chrysanthemum tea is the popular traditional festival drink. The tea made from the petals of the flower is surprisingly delicious with some sugar. It is also a popular herbal remedy to ward off colds and cure coughs when the weather changes and grows wet and cold in the fall.
Recommended Restaurants for the Mid-Autumn Festival Dinner
Fengjing Restaurant: It is the highest restaurant in Hong Kong. It is a western restaurant located on Victoria Peak. Many films used it as a background. It was selected as one of the best places to propose marriage due to its romantic atmosphere.
Felix Restaurant at the Peninsula Hotel: The restaurant is housed at the 28th floor of the hotel and has a view of Victoria Harbor. It is a dining place at dinner time and changes to a bar afterwards.
See Hong Kong Restaurants for more ideas.
Travel in Hong Kong
See China Highlights' customizable Hong Kong tours to celebrate the Mid-Autumn Festival with local people.
Related Links
Send Free Mid-Autumn Festival Cards

China Highlights
Questions and Answers About Celebrating Mid-Autumn Festival in Hong Kong
April Offer $25 Coupon
Send your inquiry before Apr. 30, 2014, and we will email you a $25 coupon.
The coupon is valid till Dec. 31, 2014, for paying tour packages worth $250 or up.
The coupon cannot be used for paying flight tickets, train tickets, hotel rooms and day trips.
Travel Advice or Question? Ask us here
Mid-Autumn Festival (Zhongqiu Jie)