The Mid-Autumn Festival in South Korea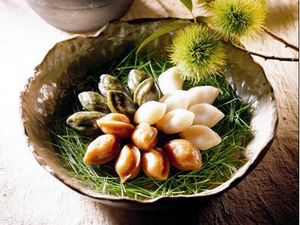 The traditional snack eaten during Mid-Autumn Festival resembles Chinese dumpling.
The Mid-Autumn Day is also named "qiu xi" ("??" in Korean). It is also a tradition of Korean to present gifts to relatives and friends on this festival. Therefore, it is named "Thanksgiving Day" as well. On their holiday table, the festival is marked as "Thanksgiving Day" in English. The Mid-Autumn is a general festival in Korea, and there would be a three days' holiday. During these days, they would come back to their hometown to visit their relatives. Thus, it is the season for sale one month before the festival. The major companies would give big discounts to attract people to give gifts to each other. On this day, Korean would have a kind of traditional snack, which resembles the Chinese dumpling.
Send Free Mid-Autumn Festival Cards

China Highlights
Mid-Autumn Festival (Zhongqiu Jie)