Chinese New Year Questions and Answers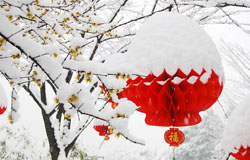 Is it possible to travel in China during Chinese New Year?
Travel to China is possible over the New Year as long as you are well-prepared. Be prepared to see big crowds in the streets, restaurants, trains and train stations. All travel bookings are extremely tight , hotels generally increase their rates.
Will everything be closed over Chinese New Year?
The tourist-related industry opens as usual even though government buildings and offices are closed during the New Year Holiday. Restaurants, tourists attractions, hotels, airports, departments stores will be open and ready for more customers.
Which is the best place to experience an authentic Chinese New Year?
Beijing is the best place to experience Chinese New Year in terms of celebrations and the atmosphere. As the New Year approaches, most of the city gets into the spirit, and is decorated with red lanterns. New Year songs and greetings can be heard over the noise. There are a lot of temple fairs during the New Year. China Highlights' New Year Tours give you an opportunity to celebrate Chinese New Year as the locals in Beijing do.
What is the weather like during the New Year Festival?
The Chinese New Year Festival takes place in late January and late February, which is the coldest time in China. North China is a frozen expanse with average temperature below 0 ℃(32℉). Take Beijing and Harbin for example. In Beijing temperate sometimes plummets to -10 ℃(14℉) during the New Year. It is even colder in Harbin with the lowest temperature below -20 ℃(-4℉). Snowy and icy weather is common. Read more on China Weather.
South China is a warmer than the north but it isn't warm at all in the real sense. Winter in the Yangtze region (Nanjing, Shanghai and Wuhan) is frozen and windy. Hong Kong, Macau, Guangzhou and Shenzhen in winter are comfortable. Wintering in southern Yunnan province is enjoyable but dramatic difference occur in temperature between daytime and night.
Do I need to bring some small gifts for my guide during the New Year? If so, what are the best options?
Gifts from tourists to tour guides are not expected. But your tour guides will appreciate your practice if you do bring surprise for them. A pair of warm gloves, a warm scarf and a box of candies are recommended.
In terms of lucky money, how much should I give and how to give?
The amount of lucky money varies according to the recipient and the relations between the giver and the recipient. Bosses giving to employers, parents giving to child usually range from 200 to 500 or even more. The money will be put in red envelope. Parents usually give the lucky money to their children the first day of the New Year. Bosses give the lucky money to their employees the first working day in the New Year.

China Highlights
Chinese New Year (Spring Festival) 2013