Chinese Spring Festival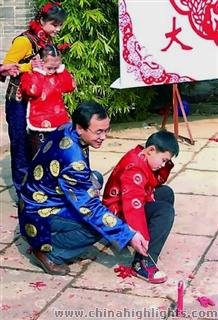 China's Spring Festival, also known as Chinese New Year or Lunar New Year, is the most widely-celebrated and most important festival in China (corresponding to Christmas in the West).
In traditional culture, the celebrations of Spring Festival can last for more than twenty days, from the twelfth Chinese month to the Lantern Festival (occurring somewhere in the period from late January to late-February). All these celebrations are related to sacrificing to deities, ancestors, and Buddha, cleaning away the dirt of the past year, and welcoming the New Year, good fortune (fu 福), and happiness.
History
Origin
The Spring Festival has a history of more than 4,000 years. It is said that the custom of Spring Festival originated from belief in deities. When the solar terms changed or farming activities came, especially at the end of a year, people would sacrifice to the deities and pray for good harvests.
Development
"Nian" (年 'year') was not a word for describing time originally. It was used to describe the cycle of crops' growing until the Xia Dynasty (2070–1600 BC).
The beginning of a year changed during different dynasties until the Han Dynasty (202 BC–220 AD). For example, people in the Xia Dynasty celebrated New Year's Day in the first lunar month of a year, while people in the Qin Dynasty (221—206 BC) celebrated New Year's Day in the lunar tenth month of a year.
The exact celebration period of Spring Festival was fixed in 104 BC and was given a name "suishou" (aka "nian", the beginning of the year), when China was ruled by Emperor Wudi (156–87 BC), and the lunisolar calendar was promulgated. The calendar made the beginning of a year and the 24 solar terms coincident. So, in ancient China, the first day of the lunisolar year was called "yuandan" (元旦, 'first dawn').
Today
On January 1, 1912, the Republic of China introduced the Gregorian calendar, and named January 1 as "yuandan". The traditional New Year's Day was given another name—"Chun Jie" (春节 'Spring Festival').
Legend and Traditional Custom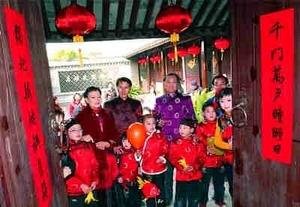 According to traditional customs, people stay up late or all night with the lights on Spring Festival's Eve and will set off firecrackers as soon as the first second of the New Year's Day comes. There is an interesting legend for the origin of the custom.
Almost every traditional Chinese festival has its own legend, including Spring Festival. In traditional Chinese culture the Spring Festival is also named "guonian" (过年 'passing a year').
The legend is related to a fierce monster called "Nian" (年) which ate an animal a day cruelly, sometimes a human being. People's faces turned pale at the mention of the monster. However, people found that "Nian" appeared in human society every 365 days after dark, and when the dawn came, it went back to a wooded mountain, and the most important thing—it was very scared of the red, light, and loud sounds.
So, since then, people use red Spring Festival couplets, lights, and firecrackers to drive away the monster every Spring Festival's Eve.
Read more on Chinese Spring Festival 2013

Traveling to China During Spring Festival
Chinese New Year is a time for families to be together. Wherever they are, people come home to celebrate the festival with their families. This is the reason why the busiest travel time happens during this period. Travelers who plan to visit China during the New Year time are recommended to book everything in advance. We at China Highlights have listed some tips for traveling during the Chinese Spring Festival period.
Related Links
Send Free Chinese New Year Cards

China Highlights
Planning a trip? Ask us here 800-2682918 (USA & CA)
86-773-2831999 (Int'l)
Q:
Robert
Asked on 2013-01-18
Reply
I am planning a trip to visit a friend in Changsha hunan province in possibly September 2013, what is the weather like at that time, and where is the best places to stay in Changsha, it will be my first time to visit china...
Hi Robert, the temperature in September is comfortable in Changsha. The average temperature is from 15 °C (59 °F) to 29 °C (84.2 °F), making mornings and nights cool and mild, and days can be hot. A T-shirt or a dress is good for the daytimes, and a light jacket is crucial at night to keep the colds away.
A hotel in Furong District is recommended. You can find hotels in Changsha via here: http://www.chinahighlights.com/hotel/changsha-hotels/index-2.htm
Whitney Liao Replied on 2013-01-19
Q:
susan
Asked on 2013-01-15
Reply
How long does the Spring Festival last
Hi Susan, usually it lasts for 15-20 days.
Whitney Liao Replied on 2013-01-16
Q:
husna
Asked on 2012-07-31
Reply
is it a wise decision to come Beijing during this festival... is everything open like normal time... im plan to come in between end of january to early feb.
Hi Husna,
Thank you for your inquiry. Yes, if you come to visit Beijing during the Spring Festival, you can celebrate Chinese New Year with Chinese local people and learn to make dumplings. The scenic spots also open during winter, but some of them might close earlier than the peak season. The weather in winter is cold and dry with occasional snow. The temperature is usually well below zero. Prepare down jackets, thick jeans , sweaters, hats and gloves. You might also need a mask to protect your nose on windy days. Since you are planning to visit Beijing, you can click here of our Beijing Tour for reference:http://www.chinahighlights.com/beijing/tours.htm . If you need, we could tailor-made a tour for you. Please feel free to contact me. Regards, Alice.
Alice Cai Replied on 2012-08-01
Q:
Nicole
Asked on 2012-04-07
Reply
What is the difference between the Chinese Spring Festival and the Chinese New Year?

Hi! They are the same. Peter Replied on 2012-04-09

Chinese New Year is the most important of the traditional Chinese holidays. In China, it is known as "Spring Festival," the literal translation of the Chinese name 春節 (Pinyin: Chūnjié). Peter Replied on 2012-04-09
Q:
Terry
Asked on 2012-01-22
Reply
As a guest at a Chinese New Year Party should we bring anything or prepare in any special way?
Canddies, Chocolate and fresh fruit are the most popular gifts, and if you would like to pack it, please avoid any black, and red color is the best. Also if host has a child, it would be better for you to prepare "lucky money". Karen Karen Yang Replied on 2012-01-29