China Guide > China Guidebook > Chinese Food & Dining
Chinese Food & Dining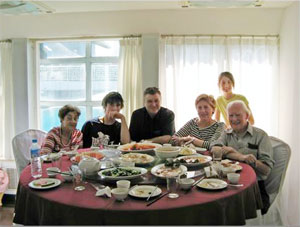 Food has a special meaning to the Chinese people.  The the 'waste not, want not' ethos means that a surprising range and variety of plants and animals are eaten and every part of a plant or animal is used.  This has given rise to a remarkable diversity in the regional cuisine, but to Westerners it can be overwhelming - surprising, fantastic, delicious, horrifying or disgusting but above all, different.  Travelers are often surprised that it is not like the Chinese take-away in their home town.
However, China is also a gourmet's paradise, and the food can be outstanding, if you know what to order. It includes a lot of fresh vegetables, meat, noodles, rice, fish, dumplings and regional specialties, with an amazing number of ways to prepare, spice, serve, pickle or preserve the food. See China Highlights' Food Tours.
Most restaurants provide tea free of charge.  This is normally green tea, or similar.
Cutlery can be offered if asked.
Tipping is not expected, although service charges may be included in the more expensive restaurant.
When ordering dishes in a restaurant, make sure that you really understand what the dish is, because the name of the dish might be confusing, and you'd end up having a completely unexpected dish in front of you.
See also Avoiding Tourist Traps.
Do you want to venture out from the tourist area to eat where the locals eat? We have prepared menus in Chinese and English that will give you freedom to escape the hotels or the tourist beat. ( Chinese Food )
Chinese Common Dishes
Drink



Breakfast


Rice


Noodle


Soup


Main Course

Relate links about Chinese Food