China Guide > China Guidebook >Getting Around in China
Getting Around in China
Taking a taxi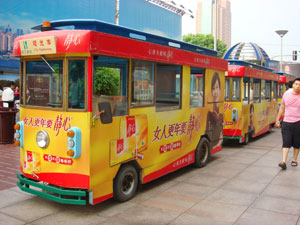 Taking a taxi is the most comfortable, easiest and most secure way of getting around. There are many taxis in cities large and small. Simply wave your hand and a taxi will stop for you. Prices vary by city but are usually very cheap. The meter should always be activated. You can order a taxi from your hotel and ask the concierge to write down your destination on a card. Pay the driver upon arrival. Tipping is not the custom.
Trains
( China Trains Schedule )
Arrivals
Your guide usually knows which carriage you are on, and meet you on the platform.  However,  some trains are now so fast (eg D trains travelling at 200 km/h) that no-one is allowed onto the platform until after the train has arrived.  In these instances it's hard for the guide to come in quickly against the flow of passenger, so  customers should stay put until their guide finds them, usually after the initial hurly burly. The guide will know where on the platform you can be found, and this will avoid you having to check around 4 or 5 exits, when you could walk up to 4 km getting round them all.  Check beforehand whether you should await your guide, or go to the exit.
Your guide can ask the carriage attendant to warn you 5 minutes or so before you arrive at your station.  Local trains, eg to Suzhou, may be a through train, stopping only very briefly, about 2 minutes.  Be ready!
Sometimes you may need to show your ticket to get off the platform when you arrive, so hang on to it, just in case.
Each carriage is numbered.  Each bunk is numbered.  These show on your ticket.  In the carriage each 4-berth cabin is also numbered.  This does not show on your ticket, and can confuse you.  Eg You are in Carriage #6, berth 7.  Berth 7 will actually be in cabin 2  (Cabin 1 has berths 1-4, Cabin 2 has berths 5-8 etc).  Cabin 7 will therefore have berths 25-28. 
Departures
Procedure:  Go to the waiting room (your platform/waiting room are displayed on the boards) in the station, with train number and destination.  In large stations this cycles between Chinese and English, like the China airports, in the smaller stations you can pick up the train number to see which platform and/or waiting room)
Doors from the waiting room to the platform will be opened when the train arrives, and close 5 minutes before it leaves  (note on some of the smaller trains the procedure is different, eg at Suzhou the train only stops for 2-3 minutes, and it's a mad and sometimes dangerous scramble).
Once the doors are open, find the right platform .  Don't underestimate this task, it may involve quite a bit of walking, and some stairs.   One waiting room may give access to many platforms.  Sometimes you can get on early (avoiding the mad scramble) with the help of your guide who can pay a porter a few yuan to give you early access to the platform.  The main point is GET THERE IN GOOD TIME.
Please check out more imformation about Transportation in China major cities/regions: China Transportations