Keeping Healthy in China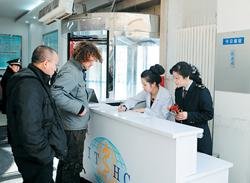 Foreign visitors should check what vaccinations are required or recommended when planning a trip. Your doctor may also be able to provide you with up-to-date information on the status of disease outbreaks in China. Most national governments also run travel advisory websites through their State or Foreign Affairs Departments.
China Hotels usually have access to a doctor.
In the event of a serious condition which requires hospitalization, your tour guide will do everything possible to ensure that you receive that best treatment possible. Please call your China Highlights Travel Advisor so that we can provide assistance.
The major cities of Beijing, Shanghai, Shenzhen and Guangzhou have hospitals that will reach the standard of foreign hospital however the hospital systems differ considerably. Hospitals in other cities may not offer the same standards of hospitals as foreign countries.
On entering hospital all patients are required to pay a substantial deposit before any treatment will be administered. Nursing care in hospital is strictly limited to medical treatments so patients will require a person who can assist with all other activities. No food is supplied.
We highly recommend that all travelers buy comprehensive travel insurance in their home country before departure. ( China Travel Insurance )
Reminders on how to stay healthy
Protect yourself from mosquito bites by using mosquito/insect repellant or spray.
For prevention of Malaria, starting 4-6 weeks before your trip, start taking an anti-malarial drug. (Please ask your doctor which one he/she thinks is best.)
Bring over-the-counter anti-diarrhea medicine.
Bring Ibuprofen, Motrin. Advil, or other types of mild pain relievers for headaches, toothaches, muscular aches, backaches, the common cold, menstrual cramps and fever reducers and mild body pain.
Don't handle animals (especially monkeys, cats, dogs), to avoid the risk of rabies.
Don't eat food purchased from street vendors.
Don't swim in fresh water except for well-chlorinated pools to avoid infection with schistosomiasis.
Wash hands often with soap or water (and/or instant antibacterial hand wash).
Vaccines/Immunizations (4-6 weeks before your trip)
Hepatitis A or immune globulin (IG)
Hepatitis B if you might be exposed to blood, have sexual contact with the local population, be exposed through medical treatment, or stay longer than 6 months. (Hepatitis B is recommended for infants and for children 11-12 years of age who did not receive it as infants.)
Rabies, if you might be exposed to wild or domestic animals.
Typhoid

China Highlights