Student Travelers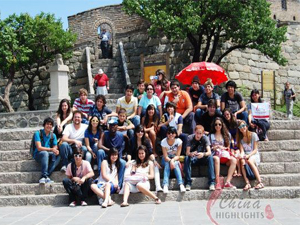 China's history, culture and the variety of learning experiences available make student educational trips here an enriching and memorable experience. See China Highlights' Students Tours. Though China is a relatively safe country, any travel may occasion safety considerations, especially for young students who lack travel experience. The following are some useful information:
Leave a Trail
Make copies of your passport, airline tickets, credit cards, insurance, tour itinerary, your contact details (check below) and other documents you are taking with you on the trip. Leave a set of these copies with your family or friends at home, so that they can contact you or help you in case of an emergency, then pack another set of the copies separately from the originals.
Contact Details
Your contact details should include the following items:
Tour Itinerary.
Your travel advisor's name, telephone number, email, and address.
Your hotels' name, address and phone number.
Your mobile number and email address if you have accessibility during travel.
Your tour guide and travel companion's contact number if you use tour guides or are traveling in a group.
Make Regular Phone Calls
Make phone calls to your family or friends at regular time, so that they can know your whereabouts and that you are safe.
Pay close attention to what you are eating and drinking
Only drink bottled water and never drink tap water. Stay away from raw foods, and pick a restaurant carefully. If you want a western break, there are McDonald's, KFC and Pizzahut restaurants in most big cities.
Keep an Eye on Your Stuff
Do not leave your luggage unattended or with a stranger. Keep the zippered sections locked. Keep your valuables and documents in a secure place and always pay attention. You don't want to invite any trouble by showing off your valuables.
Respect Local Customs and Religions
Do not wear over-revealing clothes, especially at temples and monasteries. Please refer to Chinese Etiquette for more information.
Mind Your Safety
Avoid walking alone on deserted streets after dark. Keep your cash and valuables stashed and stay alert. Memorize some Chinese phrases, such as Jiu Ming! (Help!) and Zou Kai! (Go away!).
Check Your Baggage Carefully
Before crossing a border, or going through security check at the airport and train station, check your bags carefully to ensure that the contents are yours and yours alone. Never agree to carry anything in your bag or pocket if a stranger asks you to do so.
Get Discounts
If you have a valid ISIC (International Student Identity card), you may get a certain discount on admission fees at some scenic spots in Hong Kong, Macau and some big cities in Mainland China. Please learn more details at ISIC website.
Related Links

China Highlights
Questions and Answers About Student Travelers
maria
2012-09-26
Show Answer
My daughter is touring with her college orchestra this December. They have sent in a scan of her passport along with the other students passports for the visa. We have now misplaced her passport. What can we do to get this resolved asap before she leaves.
Hi Maria, find the correct one or let your daughter make another scan is okey. Whitney Liao replied on 2012-09-27
April Offer $25 Coupon
Send your inquiry before Apr. 30, 2014, and we will email you a $25 coupon.
The coupon is valid till Dec. 31, 2014, for paying tour packages worth $250 or up.
The coupon cannot be used for paying flight tickets, train tickets, hotel rooms and day trips.
Travel Advice or Question? Ask us here