Xinjiang Cuisine Menu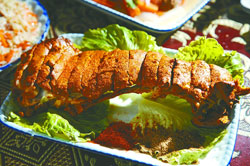 The region of Xinjiang in northwest China is traditionally home to ethnic Muslim peoples like the Uighur (pronounced wee-ger), so there is no pork or carnivorous animals on the menu. Being a region with lots of pasture, sheep features on top of the menu. Xinjiang is also famous for its fruit, particularly dried fruit.
Despite Xinjiang being the furthest region in the world from the sea, and the Taklamakan Desert covering a large portion of the land area, Xinjiang has tall mountain ranges. These draw rainfall and lead to fertile mountain fringes, where the invention of underground irrigation has led to the cultivation of some of China's best food.

Xinjiang Cuisine
| English | Chinese | Pronunciation | Characters |
| --- | --- | --- | --- |
| Garlic Mutton | Dasuan Yangrou | Daa-swann yang-roh | 大蒜羊肉 |
| Crispy Sheep Leg | Xiang Su Yang Tui | Sshyang soo yang tway | 香酥羊腿 |
| Roast Mutton Chops | Kao Yangpai | Kaoww yang-peye | 烤羊排 |
| Mutton and Pilau Rice | Yangrou Zhuafan | Yang-roh jwaa-fan | 羊肉抓饭 |
| Xinjiang Big Plate Chicken | Xinjiang Da Pan Ji | Sshyin-jyang daa pan jee | 新疆大盘鸡 |
| Borscht (Beetroot Soup) | Luo Song Tang | Lwor song tung | 罗宋汤 |
| Almond Crackers | Xingren Su Bing | Sshying-rnn soo bing | 杏仁酥饼 |
Continue to read Halal food in China
Chinese Food Menus
Meat Dishes
Rice, Wheat, and Vegetarian Dishes
Soups, Hotpots, and Snacks
Related Pages

China Highlights
Questions and Answers About Xinjiang Cuisine Menu
April Offer $25 Coupon
Send your inquiry before Apr. 30, 2014, and we will email you a $25 coupon.
The coupon is valid till Dec. 31, 2014, for paying tour packages worth $250 or up.
The coupon cannot be used for paying flight tickets, train tickets, hotel rooms and day trips.
Travel Advice or Question? Ask us here