Mosques in Xiamen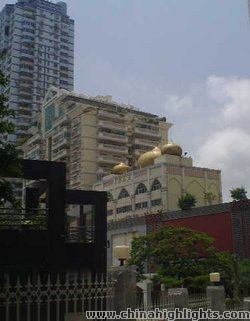 Xiamen Mosque
The Xiamen Mosque was built in the late of Daoguang Period (1902), Qing Dynasty(1644-1911). The temple is located in the west and opposite to the west. It is a long rectangle three-entrance courtyard. The first entrance is to the yard. The second entrance is to the hall and wing-rooms. The three entrance is to the prayer hall. The temple keeps some Arabic scrolls. It is the religious center for Muslim people in Xiamen.
Address: West of Yuping Road, Xiamen, Fujian (福建省厦门市玉屏路西侧)
China Highlights are your China travel expert. We can help you customize a muslim trip to Xiamen.

China Highlights
Planning a trip? Ask us here 800-2682918 (USA & CA)
86-773-2831999 (Int'l)
Q:
Sam
Asked on 2012-12-21
Reply
hi there,is there any halal shop/rastaurant close to Corwn Paragon
Q:
Sag
Asked on 2012-08-30
Reply
I will be staying in 7 days inn (No 69 Fanghubei Sanli) for a month and would like to know if there are any halal restaurants within walking distance. Also, do supermarkets there sell halal products.
Hello Sag, sorry I don't know any halal restaurants within walking distance to your hotel. Usually there are halal products selling in the supermarkets. You can go and have a look. Regards, Whitney
Whitney Liao Replied on 2012-08-31