Must-taste Chinese Food
Food has a special meaning to the Chinese people. With thousands of years of history and development, there is a remarkable diversity of cuisines and food in China, which will take ages if you want to taste them all. China Highlights has listed the following must-taste Chinese food in major tourist destinations for your reference. You may also want to check out China's Top Food Cities and our Chinese Food Tours.
1.

Beijing Roast Duck, Beijing

A saying that is often heard is: "There are two things you must do in Beijing: eat Beijing Roast Duck and see the Great Wall." When roasting the duck, compressed air is injected into the duck between its skin and flesh to make the skin glossy and shiny. The manner of serving and eating Beijing Duck is also unique. One duck may produce about 120 very thin slices, each containing both meat and skin.

Recommended tour: Classic Beijing Tour
2.

Rice Noodles, Guilin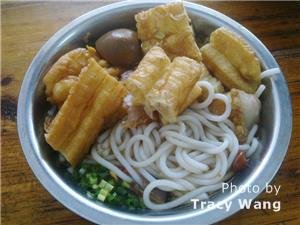 Guilin rice noodles
Taking pride of place as the most popular local snack (or breakfast, lunch or dinner) in Guilin, Guilin rice noodles is pliable but strong, fragrant and mellow, and cheap. Rice noodles, gravy, fried peanuts or soybeans, chopped scallions and thin slices of different kinds of meat are added for various versions of this renowned and tasty dish. Soup may be ladled on or dispensed from an urn.
Recommended tour: Essence of Guilin and Li River Tour
3.

Soup Buns, Shanghai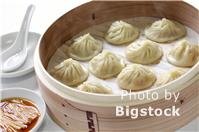 Shanghai Soup Buns
Soup Buns refers to a kind of buns with soup wrapped within. Soup Bun in Shanghai tends to have Chrysanthemum-like shape, thinner dough skins, and much stuffing which come into wide range of choices. The buns are served hot in the bamboo basket in which they were steamed. The shape and attempting fragrance really stimulate your appetite.
Recommended tour: Essence of Shanghai Tour
4.

Hotpot, Chengdu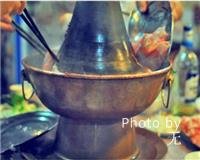 Chengdu hotpot
Sichuan hotpot tastes very spicy. The broth is flavored with chili peppers and other pungent herbs and spices. The main ingredients include hot pepper, Chinese crystal sugar and wine. Slices of kidney, chicken breast, beef tripe, goose intestines, spring onion, soya bean sprouts, mushrooms eel, duck and sea cucumber form the meat content of the dish.
Recommended tour: Bifengxia Panda Base Discovery and Chengdu Highlights Tour
5.

Dumplings, Xi'an
Xi'an dumplings
Dumplings are a traditional food widely popular in China, especially in North China. Dumplings generally consist of minced meat and finely-chopped vegetables wrapped into a thin and elastic piece of dough skin. Popular fillings are mince pork, diced shrimp, fish, ground chicken, beef, and vegetables. In Xi'an, you can enjoy dumpling banquets serving various kinds of dumplings.
Recommended tour: Xi'an Cuisine Tour
6.

Dim Sum, Hong Kong

Hong Kong will not be complete without trying Dim Sum. Morning or lunch time Dim Sum is a local tradition. The wide range of snacks are delightfully served in bamboo baskets and accompanied by tea. You can stop at Dim Sum restaurants at any hour. The waiters push the wheeling carts full of dishes. When they come by, point at the dishes you want, and the waiter will put them on your table.

Recommended tour: Essence of Hong Kong Tour
Related Links

China Highlights
Questions and Answers About Must-taste Chinese Food
April Offer $25 Coupon
Send your inquiry before Apr. 30, 2014, and we will email you a $25 coupon.
The coupon is valid till Dec. 31, 2014, for paying tour packages worth $250 or up.
The coupon cannot be used for paying flight tickets, train tickets, hotel rooms and day trips.
Travel Advice or Question? Ask us here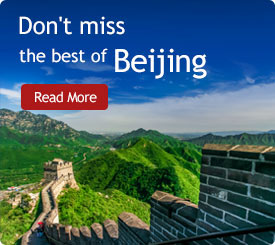 The Most Popular Articles
The Latest Travel Articles