Great Chinese New Year Gifts Ideas
Your Chinese New Year gift may be selected based on your income. Your gift does not have to be fancy, and food and drink is OK. Remember to put your gifts in a box or a bag (red and gold are the fortunate colors and white and black are taboo colors).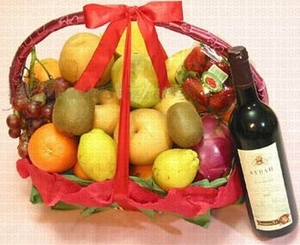 Alcohol
If your Chinese hosts drink alcohol, preparing a nice bottle of alcohol could be a nice choice.
Tobacco
If your male Chinese host smoke, find out what he likes. He will appreciate a nice carton of whatever it is.
Tea
Most Chinese people love tea. Tea is always a nice gesture no matter whether your hosts are Chinese or not. A nicely wrapped box of tea is much better than bagged tea for gifts.
Hat, Gloves, Scarf or Clothes
If you are familiar with your hosts, you can prepare a hat, a pair of gloves, a scarf or clothes as a gift to the female seniors in your hosts' family.
Home Supplies
If your hosts have moved into a new house not long before, home supplies like a tea set, electrical equipment or crockery would be fine.
Candy
Bring some candy with you during Chinese New Year; so that you can bring some happiness to the kids you come across.
Fruits
Fruit baskets are common and proper gift for your Chinese hosts, and they can be found in many large shops. However, some fruit baskets sold on the markets might hide some inferior-quality fruit in the bottom. If you want a satisfactory fruit basket, you could buy the fruit yourself and have the vendor wrap it for you, or wrap it with red ribbon yourself. Of course, taking a box of oranges or a box of apples is also recommended, because apple and orange respectively symbolize safety and fortune.
Red Packets for Children
If your Chinese hosts have children, do not forget to prepare some red packets (hong bao). Both the hosts and the children would appreciate that you know the tradition.
Below are some taboos when giving gifts to your Chinese host at Chinese New Year.
If a Chinese family experiences funeral affairs less than a month before Chinese New Year, do not visit the Chinese family at Chinese New Year.
Chinese people believe that good things should be in pairs, so make sure you bring with you at least a pair of gifts.
Tear off the gift's price tag, no matter how expensive it is.
Never prepare a watch or a clock as a gift to a senior.
Related Pages

China Highlights