Though China train system has gained great progress recent years, it is not as developed as it in western countries. Here are what you need to know before your train ride in China.
1. Check your station
Many cities in China are served by more than one train stations, especially in large cities, such as Beijing, Shanghai, Guangzhou and Shenzhen. There are five train stations in Beijing: Beijing, Beijing West, Beijing East, Beijing North and Beijing South. Shanghai is served by four major train stations: Shanghai, Shanghai Hongqiao, Shanghai South and Shanghai West, and 7 small train stations.
Therefore read your train ticket carefully and make sure you head for the right departure station.
Also Read: How to read train tickets?
2. Pack less luggage
Not as western countries, luggage can't be checked if you travel by train in China. You need to bring you luggage on a train and take it off yourselves when you reach your destination. Pack less luggage if it possible.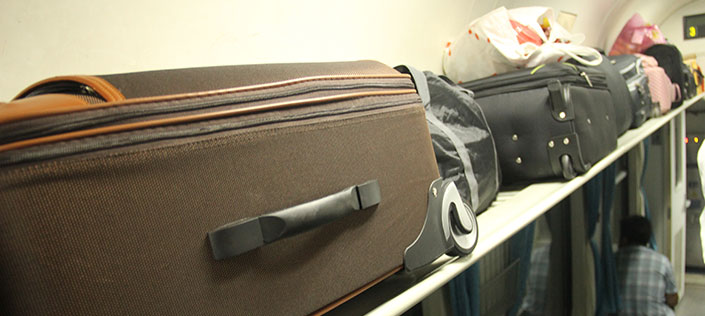 The baggage rack on the China train
3. Bring some food and beverage
It is advised to buy some food and drinks at supermarkets before you get to a train station, especially if you need to spend your meal time on a train or your train ride is longer than 5 hours. Food and drinks are less in varieties and higher in prices in a train station or on a train.
A dinner car in a Train only serves simple and plain Chinese food and most menus are in Chinese only. Bread and milk are available sometimes. But don't expect staff on the train can speak English.

A Packed Meal on a Train

A Lunch Served in a Dinner Car

Serving Trolley on the train

In a Dinner Car
4. Leave time for security check and ticket check
You are required to do a security check before you enter a train station. Though it is not as complex as in airports, it can be a big deal if you are on a tight schedule.
Ticket gates open about 15 to 30 minutes before departure and your ticket will be checked by machines or staff of the train station. Plan to be there early as you will have to wait in lines and the gates close five minutes before departure. But it's more the exception than the rule, not as strictly as in airports.
Keep your tickets; they will be checked again during your train ride and required to show when you exit the arrival station.

Security check at the entrance

Ticket gates
5. Go to the appropriate waiting room
Most train stations in China have more than one waiting room. Once you are in a station, first you need to find a large electric train board. All trains departure today will be listed on the board, including train numbers, departure times, destinations and waiting rooms. They may be not in English, but train numbers, and departure times are easy to figure out. Then the rest number is the number of your waiting room.
In a waiting room, every two or four lines of seats are for specific trains. You will find smaller train status boards at the end the seats list the status of one or two trains. Find your train number, and there is the waiting area. Your platform number is also on the board.

Electric train board at Beijing west station

The large electric train board in Beijing west station
6. There is 5-to-8-minute walking distance from a ticket gate to a platform
You need to walk for about 5 minutes with your luggage after you pass the ticket check to get to the platform. There may be slopes and long stairs and usually no escalator. You have to carry your luggage up and down with a mass of people doing the same thing. Please remember your platform number and follow the crowd.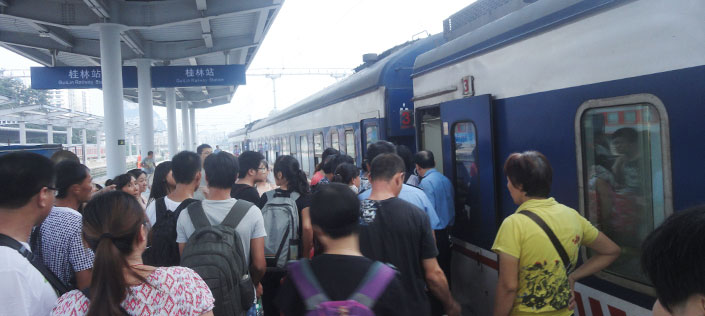 The platform of the Guilin train station
7. Board a train according to the compartment number on your ticket
There is specific compartment and seat number on you train ticket. You are required to board a train from the certain compartment and take the certain seat according to your ticket.