Beijing Terminal: Beijing West Railway Station
Xi'an Terminal: Xi'an North Railway Station
China High-Speed Railway from Beijing to Xi'an has been in operation since December 26, 2012. The line covers a distance of 1,144 kilometers.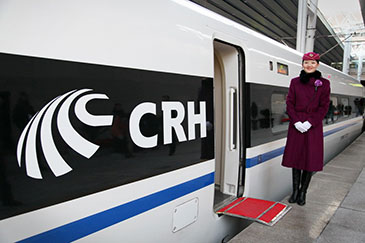 The Platform inside of Xi'an North Railway Station
The Beijing to Xi'an / Xi'an to Beijing high-speed trains have a speed of 250 to 300 km/h. The journey between Beijing and Xi'an has been shortened to 4 hours and 40 minutes from 11 hours. The price of a second class seat is $84, a first class seat $133, a superior seat $159, and a business seat $262.
10 pairs of high-speed trains travel on the Beijing–Xi'an line. The time interval between services is about one hour. Besides the trains starting in Beijing and Xi'an, trains starting from Zhengzhou are also available.
China Highlights make train ticket on-line booking available to you to save you time, hassle and money. All inquiries will be handled by China Highlights' experienced travel advisors to ensure you get the best service. Click here to search for train prices and schedules and book a ticket.
Stations on the Line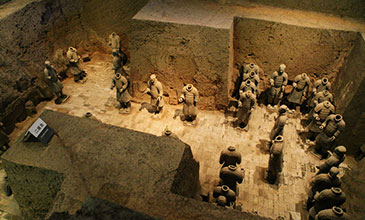 Terracotta Warriors
There 21 stations on the high-speed line between Beijing and Xi'an: Beijing West Railway Station, Zhuozhou East, Gaobeidian East, Baoding East, Dingzhou East, Shijiazhuang South, Gaoyi West, Xingtai East, Handan East, Anyang East, Hebi East, Xinxiang East, Zhengzhou East, Zhengzhou, Gongyi South, Luoyang, Longmen, Mianchi South, Sanmenxia South, Lingbao West, Hua Mountain North, Weinan North, Xi'an North Railway Station.
Different high-speed trains have different stops, some only have three stops. For example train G87 and G88 only stop at Beijing West Railway Station, Zhengzhou East Railway Station and Xi'an North Railway Station.
Take the hand-picked Terracotta Warriors and Horses, Wild Goose Pagoda and Banpo Site Xi'an Tour to explore Xi'an.
G Trains Running on the Line
G trains from Beijing West to Xian North
| Train No. | From | To | Dep. | Arr. | Duration |
| --- | --- | --- | --- | --- | --- |
| G651 | Beijing West | Xian North | 07:05 | 12:48 | 05:43 |
| G653 | Beijing West | Xian North | 08:21 | 14:11 | 05:50 |
| G655 | Beijing West | Xian North | 10:05 | 15:43 | 5:38 |
| G657 | Beijing West | Xian North | 11:06 | 16:47 | 5:41 |
| G659 | Beijing West | Xian North | 12:08 | 17:35 | 5:27 |
| G87 | Beijing West | Xian North | 14:00 | 18:40 | 4:40 |
| G661 | Beijing West | Xian North | 14:42 | 20:41 | 5:59 |
| G665 | Beijing West | Xian North | 16:00 | 21:52 | 5:52 |
| G667 | Beijing West | Xian North | 16:53 | 22:44 | 5:51 |
| G669 | Beijing West | Xian North | 17:38 | 23:06 | 5:28 |
G trains from Xi'an North to Beijing West
| Train No. | From | To | Dep. | Arr. | Duration |
| --- | --- | --- | --- | --- | --- |
| G652 | Xian North | Beijing West | 07:50 | 13:17 | 5:27 |
| G654 | Xian North | Beijing West | 08:50 | 14:20 | 5:30 |
| G656 | Xian North | Beijing West | 10:05 | 15:37 | 5:32 |
| G658 | Xian North | Beijing West | 10:30 | 16:27 | 5:57 |
| G662 | Xian North | Beijing West | 11:35 | 17:12 | 5:37 |
| G88 | Xian North | Beijing West | 13:10 | 17:50 | 4:40 |
| G664 | Xian North | Beijing West | 14:40 | 20:33 | 5:53 |
| G666 | Xian North | Beijing West | 16:03 | 21:32 | 5:29 |
| G668 | Xian North | Beijing West | 17:07 | 22:50 | 5:43 |
| G670 | Xian North | Beijing West | 17:55 | 23:20 | 5:25 |