There are several ways to travel between Guangzhou and Hong Kong. The most common ways are to cross the border and take a train or bus at the Luohu Train and Bus Station or travel on a direct train between Kowloon in Hong Kong and Guangzhou. You can take a direct train that runs from the Hung Hom Railway Station in Kowloon and the Guangzhou East Station in the Tianhe District in Guangzhou and makes a stop in the city of Dongguan. The journey covers 182 kilometers (113 miles) in about two hours. See Beijing to Hong Kong Train, Shanghai to Hongkong Train
China Highlights can help our customers arrange their train trips between Beijing and Hong Kong
Hong Kong to Guangzhou Through-Train Timetable
Train No.
Hung Hom
Guangzhou East Railwa Station
T812
07:25
09:20
T824
8:18
10:09
T820
09:24
11:19
T804
10:42
12:37
T808
11:28
13:23
T814
12:14
14:09
T826
13:10
15:01
T818
14:47
16:42
T810
16:35
18:29
T828
17:50
19:41
T816
18:35
20:30
T802
19:24
21:19
Guangzhou - Hong Kong Through-Train Timetable
| | | |
| --- | --- | --- |
| Train No. | Guangzhou East Railway Station | Hung Hom |
| T801 | 08:19 | 10:03 |
| T807 | 9:03 | 10:56 |
| T813 | 09:50 | 11:43 |
| T817 | 12:12 | 14:07 |
| T809 | 13:52 | 15:46 |
| T825 | 15:31 | 17:21 |
| T815 | 16:12 | 18:05 |
| T803 | 16:56 | 18:49 |
| T819 | 18:15 | 20:08 |
| T827 | 20:15 | 22:05 |
| T811 | 21:32 | 23:25 |
| T802 | 19:24 | 21:19 |
How to Buy the Ticket?
The trains are very popular, and you need to book a few days in advance. This is especially true during peak travel periods such as Chinese New Year and the National Holiday. If you travel from Guangzhou to Hong Kong, tickets can be bought at one of the stations in Guangzhou. You may also book through a travel agent, and perhaps you may book a ticket in your hotel. Tickets for the train from Guangzhou to Hong Kong start to be sold 30 days in advance. If you travel in the other direction, you can buy it from the Hung Hom station or by using the Hong Kong Ticketing Phone System (852-29477888). See how to buy train tickets in China?
Deluxe soft sleeper tickets for Shanghai to Kowloon are available at the train stations in Mainland China only.
Passport Formalities
You will need to go through a passport control and customs check for your journey. So you need a visa for China (see how to obtain a China Visa in Hong Kong) if you travel from Hong Kong to China. Most tourists going the other way from China to Hong Kong don't need a Hong Kong visa. However, citizens of many countries in Africa and Asia must have a Hong Kong visa to enter Hong Kong from China. See: Do I need a visa for Hong Kong?
Travelers in Hong Kong should arrive about forty-five minutes before departure for the border formalities. In Guangzhou, it is advisable to arrive ninety minutes before the train departs.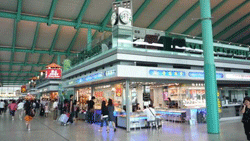 About Hong Kong Hung Hom Station
The train terminates or starts at Hung Hom Station that is the former Kowloon (九龍) Station. The station is on the interchange for the East Rail Line and the West Rail Line. This makes travel convenient because these two lines are important lines going north and west. The East Rail Line extends north to two border crossings at Shenzhen at Lo Wu and Lok Ma Chau. The West Rail Line allows you to interchange for the Disneyland Line on Lantau Island or the Airport Express Line for the Hong Kong International Airport on Lantau Island. The station is close to Tsim Sha Tsui and the Star Ferry Terminal. Hung Hom Station is one of the three Hong Kong ports-of-entry from China on the MTR network, along with Lo Wu Station and Lok Ma Chau Station.