Shanghai Terminus: Hongqiao Railway Station
Hangzhou Terminus: Hangzhou East Station
The best way to travel between Shanghai and Hangzhou is by a bullet train. There are plentiful bullet trains running on the Shanghai-Hangzhou High Speed Rail Line. This line was put into use in October 2010, making a train ride between Shanghai and Hangzhou shortened to only 45 minutes.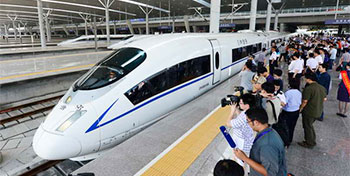 The new line travels between the Shanghai Hongqiao Station (上海虹桥) and Hangzhou East Station (杭州东站). The trains travel the 150 kilometer distance in about 45 minutes. It reaches a top speed of about 350 kilometers an hour or 217 miles an hour. About 150 trains travel between the city each day, and the passengers travel on several different models of trains. One of the models is China's first Chinese-designed train to travel at that speed. Tickets between the Shanghai Hongqiao Station and Hangzhou cost about 130 RMB or 85 RMB or 20 dollars and 12 dollars depending on the class.
Along with frequent departures, part of what makes the new line convenient for travel between Hangzhou and Shanghai is that the Hongqiao Station is next to Shanghai's International Airport, and it is on Shanghai's Subway Line 2. Also, if you miss your train, you can easily get a replacement ticket at a window and catch a train soon after.
Shanghai is a metropolis with outstanding modern characteristics, but it also has traditional Chinese features. Shanghai Classic Tour and Evening Huangpu River Cruise, Night View of the Bund, Nanjing Road are the best for a first comer. For a return visitor, To Be a Shanghainese: Longtang, Local Dinner and Free Market and Suzhou and Tongli Water Town Tour from Shanghai are recommended.

Waiting room of Hangzhou East Station

The Shanghai-Hanghzou high-speed train

Services on the Shanghai-Hangzhou bullet train


Stations on the Shanghai-Hangzhou High Speed Rail Line
Shanghai Hongqiao Railway Station(上海虹桥),South Shongjiang松江南, North Jinshan (金山北), South Jiashan(嘉善南), South Jiaxing(嘉兴南), Tongxiang(桐乡),West Haining(海宁), South Yuhang(余杭南) and Hangzhou.
Ticket Price
Hangzhou-Shanghai Hongqiao
First-class seat: 131 yuan, second-class seat: 82 yuan
Hangzhou to Hangzhou to Tongxiang
First class seat: 44 yuan, second-class seat: 28 yuan
Hangzhou to South Jiaxing
First class: 66yuan, second class: 41yuan
Hangzhou to South Jiashan
First class: 79 yuan, second class: 49 yuan
Hangzhou to North Jinshan
First class: 94 yuan, second class: 59 yuan
How to Buy the Ticket
Tickets for the new bullet train can be bought at train stations or booked through a travel agency. Bullet train tickets are available for sale 10 days before departure. You may need to book your tickets in advance on weekends or during the major Chinese holidays such as the Chinese New Year and National Day. From June 1, 2011, passengers need to present their valid ID (passport) to buy bullet train tickets (including tickets of C trains, D trains, and G trains).
China Highlights make train ticket on-line booking available to you to save you time, hassle and money. All inquiries will be handled by China Highlights' experienced travel advisors to ensure you get the best service. search for real time train prices and schedules and book a ticket