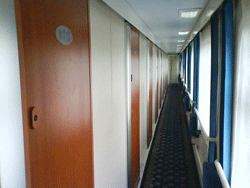 Train T100 runs from Hong Kong (香港) (Hung Hom Station) to Shanghai (Shanghai Railway Station), and train T99 travels the other direction. The trains run every other day by alternating back and forth. A trip between the two places takes about 25 hours. See Guangzhou to Hong Kong train.
China Highlights can help our customers arrange their train trips between Shanghai and Hong Kong.
The T100 train leaves Hong Kong at 3:15 pm, and the T99 train arrives in Hong Kong from Shanghai around noon. The T99 train leaves the Shanghai Railway Station at 5:15 pm, and the T100 train from Hong Kong arrives around noon. This is a fairly convenient schedule. As of yet there is no fast train service between Shanghai and Shenzhen or Guangzhou.
Ticket Price
Adult:
Deluxe Soft Sleeper: 1039 HKD or 134 USD
Soft Sleeper: about 825 HKD or 107 USD
Hard Sleeper: about 520 HKD or 67 USD
Discount: Tickets for berths in soft-sleeper cabins are available for about 365 RMB or 55 USD each if they are purchased in groups of four.
Children under five can travel free.
Facilities Onboard
Both T99 and T100 have 2-berth deluxe soft sleeper cabins with private bathrooms, normal 4-berth soft sleeper cabins, hard sleeper compartments and a restaurant car. The train consists of 10 passenger cars.
How to Buy the Ticket
The trains are very popular, and you need to book a few days in advance. This is especially true during peak travel periods such as Chinese New Year and the National Holiday. If you travel from Shanghai to Hong Kong, tickets can be bought at one of the stations in Shanghai. You may also book through a travel agent, and perhaps you may book a ticket in your hotel. Tickets for the train from Shanghai to Hong Kong begin to sell 60 days in advance. If you travel in the other direction, you can buy it from the Hung Hom station or by using the Hong Kong Ticketing Phone System (852-29477888). Advance tickets for Shanghai to Hong Long can be bought 60 days in advance. See how to buy train tickets in China?
Deluxe soft sleeper tickets for Shanghai to Kowloon are available at the train stations in Mainland China only.
Passport Formalities
You will need to go through a passport control and customs check for your journey. So you need a visa for China (see how to obtain a China Visa in Hong Kong) if you travel from Hong Kong to China. Most tourists going the other way from China to Hong Kong don't need a Hong Kong visa. However, citizens of many countries in Africa and Asia must have a Hong Kong visa to enter Hong Kong from China. See: Do I need a visa for Hong Kong?
Travelers in Hong Kong should arrive about forty-five minutes before departure for the border formalities. In Shanghai, it is advisable to arrive ninety minutes before the train departs.
About Hong Kong Hung Hom Station
The train terminates or starts at Hung Hom Station, the former Kowloon Station. The station is on the East Rail Line and West Rail Line in Hong Kong. It is located in Hung Hom, Kowloon. Hung Hom Station is one of the three Hong Kong ports-of-entry on the MTR network, along with Lo Wu Station and Lok Ma Chau Station.