The fastest train in commercial service in the world is in China. CRH380A (CRH: China Railway High-speed) hit 486.1 kph (302 mph) in 2010, the first train to break the 300 mph barrier. Then CHR380BL broke the record again in 2011, hitting a blazing top speed of 487.3 kph (302.7 mph) on the Beijing–Shanghai High-Speed Railway (HSR) during a test run on January 10, 2011.
CHR380A and CHR380BL are two of four Chinese train series which have been designed for the new standard operating speed of 380 kph (236 mph) on newly constructed Chinese high-speed main lines. The other two are CRH380C and CRH380D (not operational currently). A new record for the fastest train can be expected to occur in China.
CHR380A, CHR380B and CHR380C are operating widely on high-speed rail lines in China, including Beijing–Tianjin, Beijing–Shanghai, Beijing–Guangzhou, Zhengzhou–Xi'an, Shanghai–Hangzhou, Shanghai–Nanjing, Nanjing–Hangzhou, Harbin–Dalian, Hainan Eastern Ring (Sanya–Haikou), Hefei–Banbu, and Shijiazhuang–Taiyuan HSR lines.
The Maglev
Shanghai Maglev trains are on the list of the fastest trains in the world, with a top commercial speed of 431 kph (268 mph) and top non-commercial speed of 501 kph (311 mph). As the length of the Shanghai Maglev track is only 30 km, the average speed of Shanghai Maglev trains is only 230kph (143 mph).
The Fastest 10 HSR Lines in China
The fastest commercial train service can be defined by a train's top speed or average trip speed. A top speed is usually affected by many elements in addition to the capability of the train, such as weather, the longest length of straight track, proximity to stations, and so on. While the average trip speed is much more stable. The following are the top 10 fastest train trips in China by average trip speed.
Distance: 115 km
Duration: 33 minutes
Average speed: 209 kph (130 mph)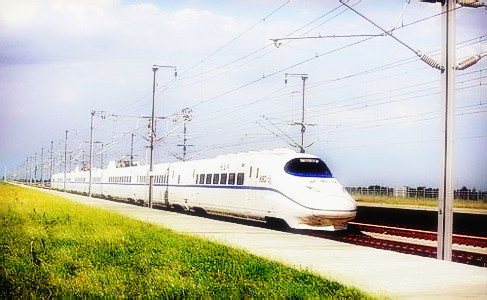 9. Beijing–Harbin HSR
Distance: 1,700 km
Duration: 7 hours 52 minutes
Average speed: 216 kph (134 mph)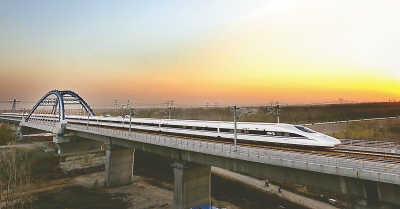 8. Zhengzhou–Xi'an HSR
Distance: 455 km
Duration: 2 hours 4 minutes
Average speed: 227 kph (141 mph)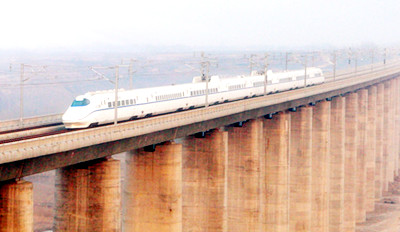 7. Shanghai Maglev from Longyang Road to Pudong International Airport
Distance: 30 km
Duration: 8 minutes
Average speed: 230 kph (143 mph)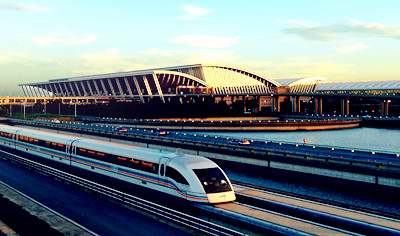 Distance: 116 km
Duration: 29 minutes
Average speed: 242 kph (150 mph)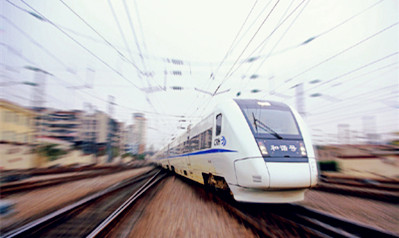 5. Harbin–Dalian HSR
Distance: 904 km
Duration: 3½ hours
Average speed: 258.3 kph (161 mph)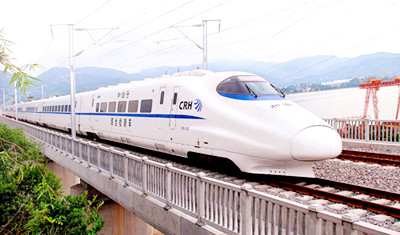 Distance: 968 km
Duration: 3 hours 39 minutes
Average speed: 265.2 kph (165 mph)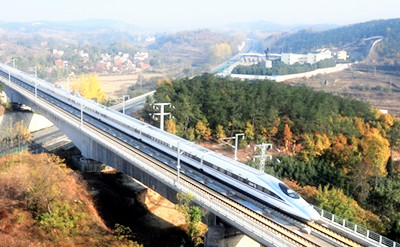 Distance: 301 km
Duration: 1 hour 7 minutes
Average speed: 268.75 kph (167 mph)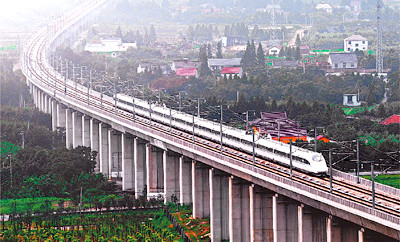 Distance: 2,203 km
Duration: 8 hours
Average speed: 275.38 kph (171 mph)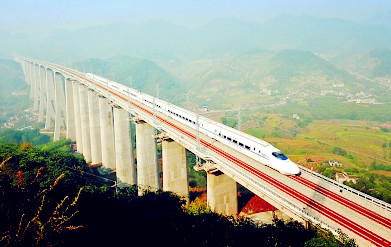 Distance: 1433km
Duration: 4 hours and 48 minutes
Average Speed: 299 km/h (186 mph)