Types of China Visa
What are the types of China Visa?
Ordinary visa consists of eight sub-categories, which are respectively marked with Chinese phonetic letters L, F, Z, X, C, G, D, J-1 and J-2.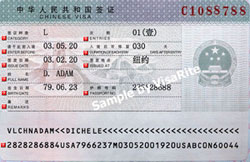 L (tourist visa): Issued to an applicant who comes to China for tourist purposes, family visiting or other personal affairs.
F (business visa): Issued to an applicant who is invited to China for visit, research, lecture, business, scientific-technological and culture exchanges or short-term advanced studies or intern practice for a period of no more than six months.
Z (work visa): Issued to an applicant who is to take up a post or employment in China, and their accompanying family members.
X (student visa): Issued to an applicant who comes to China for the purpose of study, advanced studies or intern practice for a period over six months.
C (crew visa) Visa: Issued to crew members on international aviation, navigation and land transportation missions and family members accompanying them.
G (transit visa): Issued to those who transit through China.
D (resident visa): Issued to applicant who is to reside permanently in China.
J-1 (journalist visa): Issued to foreign resident correspondents in China.
J-2 (journalist visa): Issued to foreign correspondents on temporary interview missions in China.
Do I need a Transit Visa when connecting flights at the airports?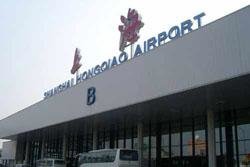 Shanghai Hongqiao Airport
Visas are not required for transit passengers who hold tickets and have booked seats on international airlines flying on route to a third country no more than 24 hours in advance.
Passengers from the following countries don't need a Transit Visa when connecting international flights in Shanghai as long as the stay is less than 48 hours: US, Canada, Republic of Korea, Australia, New Zealand and Schengen countries including Germany, France, the Netherlands, Belgium, Luxemburg, Portugal, Spain, Italy, Austria and Greece.
What is a 144-hour Convenience visa?
Foreign visitors in Hong Kong and Macau can visit Guangdong Provincefor a maximum of 144 hours (6 days) via entry ports in Guangzhou, Shenzhen, Zhuhai, Foshan, Dongguan, Zhongshan, Jiangmen, Zhaoqing, Huizhou and Shantou* using the 144-hour Convenient Visa.(*The 144-hour Convenient Visa also applies to visitors traveling to Shantou in tour groups, on the condition that they enter and leave via Shantou.)
To apply for the 144-hour Convenient Visa, visitors
must join a tour organized by a registered Hong Kong Travel Agent
must travel in a group consisting of a minimum 3 persons and a maximum of 40 persons
can have a choice of ports of entry or exit in Guangdong Province
must enter and leave the areas together via the above-stated ports of entry.
At the ports of entry and exit in Guangdong Province, immigration officers will examine passports and the list of names in the group. Group members will not need to fill in any immigration cards for passport stamping.
The above policy is applicable to ordinary passport holders of nations with diplomatic relations with China. You may contact your hotel concierge or tour operators in Hong Kong to find out about the application procedure and related service charges.
The following are some major tour operators organizing group tours using 144-hour Convenient Visa:
Able & Promotion Tours Ltd.
Tel: (852) 2544 5656
Email: enquiry@able-tours.com

China Travel Service (HK) Ltd.
Tel: (852) 2853 3531
Email: info@ctshk.com

Gray Line Tours of Hong Kong Ltd.
Tel: (852) 2368 7111
Email: sales@grayline.com.hk

Splendid Tours & Travel Ltd.
Tel: (852) 2316 2151
Email: info@splendid.hk

Vigor Tours Ltd.
Tel: (852) 2739 3828
Email: general@vigorholding.com.hk

Tiptop Tours & Travel Ltd.
Tel: (852) 2366 7070
Email: antony@tiptoptours.com.hk

How does a landing visa work?
A landing visa is available at ports in Shenzhen, Zhuhai and Hainan, however, it is not guaranteed that a landing visa will be issued to every tourist. It is advisable to get a visa before departure.
The number of days allowed in the city varies between entry ports; as do the costs and conditions. Zhuhai allows three days in the city but Shenzhen and Hainan are more flexible with a stay of up to three months combining other cities.
Tourists from America and France are not granted a landing visa. The visa fee will be only charged in CNY, cash on the spot. British tourists are expected to pay almost double for the visas.

China Highlights
Planning a trip? Ask us here 800-2682918 (USA & CA)
86-773-2831999 (Int'l)
Q:
ajith
Asked on 2013-04-28
Reply
I''m a seafarer from india...Im going to join ship in shanghai..I have to cross the country for joining..what kind of visa do I need
Hi Ajith, it is the Crew Visa/ "C" visa.
Whitney Liao Replied on 2013-04-29
Q:
Xiao Yang
Asked on 2013-04-22
Reply
Hi? I am planning to visit Tibet, beside I have China tourist visa, do I need a special permit to enter Tibet and who can issue the special permit ? I am Indonesia passport holder
Dear Sir or Madam, You need to apply for a Tibet permit before entering Tibet. We don't apply it for our clients separately unless you book a tour with us. We listed some itineraries on our website for reference. If you are interested in it, please feel free to contact us, we are glad to arrange a tour for you. Please click: http://www.chinahighlights.com/lhasa/tours.htm Lussie Lu Replied on 2013-04-23
Q:
Gary Allen
Asked on 2013-04-18
Reply
Can you advise about a visa for an australian passport. Im looking to spend about a month in China visiting friends in Guilin and seeing the sights in other cities
Dear Gary, I regret that we don't apply for a visa for our clients, I suggest you ask for the details and apply it from Chinese Embassy. Here is their official website. Please click: http://au.china-embassy.org/eng/ If this is the first time you travel to China, here are some itineraries for reference. Click: http://www.chinahighlights.com/tour/top-china-tours/ Lussie Lu Replied on 2013-04-18
Q:
roy
Asked on 2013-04-17
Reply
i need a tourist visa form how i can
Hi Roy, you can go to the visa office of China embassy/consulate-general in your country to apply it. Check out China embassy/consulate information.
Whitney Liao Replied on 2013-04-17
Q:
Su
Asked on 2013-03-21
Reply
I''m from the Uk and will be arriving in Beijing, travelling around China and then going to Hong Kong. From there I need to get to Guangzhou in order to fly back home to london. I only have a single entry visa.is there any way i can travel to Guangzhou without having to get another single entry visa? or do i need to get the visa while i am in HK?thank you for your help in advance!Su
Hi Su, I am afraid that you need a double entry visa. Sure you can apply the China visa in HK.
Whitney Liao Replied on 2013-03-22