Applying to Visit Special Parts of China and SE Asian Countries
Do I need a visa for a visit to Hong Kong?
Residents of most countries can enter Hong Kong without applying for a visa in advance and are allowed to stay for up to 90 days. A visa will be issued on arrival.
Do I need a visa to enter Macau as a tourist?
Valid Passport or Travel Entry Permit is required for one to enter Macau. The period of validity should be 30 days at least. If you join in a tour group, the procedure for visa transaction should be processed by any of the travel agencies in Macau.
Macau Visas are required to all travelers who travel to Macau except:
Holders of the "Hong Kong Identity Card"; "Hong Kong Permanent Identity Card" or "Hong Kong Reentry Permit" can stay up to one year;
Passport holders of France, Italy, Germany, Belgium, Denmark, Sweden, Spain, Portugal, Luxembourg, Egypt, Greece, Holland, Finland, Austria, Hungary, Czech, Norway, Iceland, Britain, Ireland, Rumania, Estonia, Slovenia, Croatia, Tanzania, Cyprus, Lebanon, Poland, Lithuania, South Korea and Malta can stay up to 90 days
Passport holders of South Africa, Australia, Brazil, Canada, Philippines, India, Japan, Malaysia, Mexico, New Zealand, Singapore, Switzerland, Thailand, USA, Uruguay, Turkey, Indonesia, Liechtenstein, Samoa, Seychelles, Monaco, Namibia, Israel and Kiribati can stay up to 30 days;
Nationals of China mainland with valid Macau entry/depart documents, including residents of Mainland China.
Starting from July 1, 2010, passport holders of Bangladesh, Nepal, Nigeria, Pakistan, Sri Lanka and Vietnam are required to obtain an entry visa before arriving at the Macao Special Administrative Region. Visa-upon-arrival is no longer applicable to these nationals.
However, holders of a diplomatic passport may still enjoy visa-free access to Macao. In addition, the consular officials of the above six countries posted to Chinese territory, the officials of various international organizations posted to Chinese territory and their respective families may apply for an entry permit with their passport and diplomatic/consular identity card or staff card upon their arrival at Macau.
Visas can be obtained from embassies/consulates of the People's Republic of China, or the Immigration Department of Macau SAR Government. The visa should be used within the validity, and it expires after the valid date.
There are three types:

Individual- MOP100, children under 12 years of age pay MOP50.
Family Passport- MOP200
Group- MOP50 per person for members in group comprised of at least 10 people organized by a single travel manager and presenting a collective travel document.
(1 USD≈12 MOP)
Please note that the above information is for reference only. It is suggested that travelers contact and check with embassies/consulates of the People's Republic of China (See Chinese Embassies) or the Macau Immigration Services of Public Security Police Force (website: http://www.fsm.gov.mo) for the most updated information on entry formalities.
How do I get a landing or tourist visa to Taiwan?
It is possible to apply for a Landing visas as long as you hold an ordinary passport which is valid for at least 6 months, and your intended travel is within 14 days (American tourists can stay up to 30 days holding return airline or ship tickets indicating a departure date in 30 days), however the success of the application can not be guaranteed.
To apply for a tourist visa, you will need to make sure that your passport valid for at least 6 months , have 2 recent passport photos, application form and confirmation of travel itinerary. A Taiwan tourist visa is good for a period of 60 days with an extension possible. The link below will open a new window. Close window after printing application form.
Taiwan Visa Form(PDF format)
You can also use on-line visa application service to get your Taiwan visa processed quickly and efficiently, here is a recommended company: Travel Visa Pro.
Can I Travel To Tibet Independently?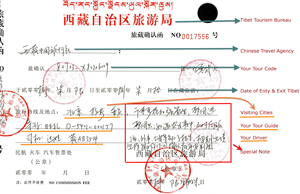 Tibet Travel Permit, click to enlarge
You don't need a separate visa to visit Tibet, but a Tibet Permit is required for overseas tourists to enter the area in addition to a China visa. China's official regulations prevent independent travelers from traveling to Tibet. China Highlights offers great Packages to Tibet and we will also take care of your Tibet Permit.
How do I obtain a China visa in Nepal?
To obtain a China Visa in Nepal, you will need to allow about 4 days in Nepal for the visa application and Tibet permit to be processed. It takes at least 2 working days to obtain a visa from the Chinese Embassy in Nepal and the Embassy only works on Monday, Wednesday and Friday.
You will need to use an authorized travel agency in Nepal to help with your application. Please provide us with the contact information of the agency, so that we can email or fax the completed documents to the travel agency, as well as the Chinese embassy in Nepal.
The following information is required for these documents:
Photocopies of passports
Name as on Passport
Passport Number
Date of birth
Gender: Male/female
Occupation
Nationality
If you do not have a travel agency in Nepal, our partner travel agent - Explore Nepal Richa Tours will be happy to help you. Please contact them for more details. Just tell them that you are a client of China Highlights and they will give you the special discount price that we have negotiated for our customers.
Explore Nepal Richa Tours
Fax number: 009771 4374658
Contact person: Major Ram (direct line)
Fax number: 009771 4411746
Tel: 009771 4422007/ 4411746 Mobile 00977 9851052550
I also attached the contact information for Chinese Embassy in Nepal:
Tel: 009771 4419053, 4415383, 4411740
Fax no. 009771 4414045
Visa Section Tel: 009771 4425520
Please ensure that you allow time for the visa application to be processed in Nepal.
Do I need a visa to visit Thailand?
Tourists from the following 42 countries are exempted from applying for a visa to travel to Thailand for up to 30 days, Australia, Austria, Belgium, Brazil, Bahrain, Brunei Darussalam, Canada, Denmark, Finland, France, Germany, Greece, Hong Kong, Iceland, Indonesia, Ireland, Israel, Italy, Japan, Korea, Kuwait, Luxembourg, Malaysia, Monaco, Netherlands, New Zealand, Norway, Oman, Peru, Philippines, Portugal, Qatar, Singapore, Spain, South Africa, Sweden, Switzerland, Turkey, United Arab Emirates, United Kingdom, United States of America, and Vietnam. Brazil, Peru and South Korea are allowed up to 90 days.
Those who are not exempted nor have time to apply for a visa, can apply for a landing visa if you are from one of the following countries and territories: Bhutan, China, Cyprus, Czech, Estonia, Hungary, India, Kazakhstan, Latvia, Liechtenstein, Lithuania, Maldives, Mauritius, Oman, Poland, Russian Federation, Saudi Arabia, Slovakia, Slovenia,Uzbekistan and Ukraine. A landing visa is good for a stay of 15 days.
If your country doesn't fall into any of the above categories or if you wish to stay longer up to 60-120 days, you will need to apply for a tourist visa. Visit the Thai embassy or consulate in your home country to apply for a tourist visa. Tourist Visa applications can also be done by mail/post or in person. Either way, expect the visa processing to be concluded in two business days although some Thai consulates or embassies can do it in a day.
Do I need a visa to visit Singapore?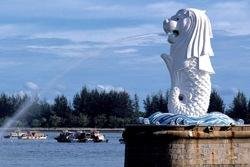 Passport holders from the following countries require a visa to enter Singapore:
Nationals of Assessment Level I Countries
India, Myanmar, People Republic of China, Holders of Hong Kong Document of Identity, Macau Special Administrative Region (MSAR) Travel Permit and Commonwealth of Independent States (Armenia, Azerbaijan, Belarus, Georgia, Kazakhstan, Kyrgyzstan, Moldova, Russia, Tajikistan, Turkmenistan, Ukraine, Uzbekistan), Nigeria
Nationals of Assessment Level II Countries
Afghanistan, Algeria, Bangladesh, Egypt, Iran, Iraq, Jordan, Lebanon, Libya, Morocco, Pakistan, Saudi Arabia, Somalia, Sudan, Syria, Tunisia, Yemen, and holders of Palestinian Authority Passport, Temporary Passport issued by the United Arab Emirates and Refugee Travel Document issued by Middle-East countries.
British and Irish passport holders do not need visas to visit Singapore for a stay no more than one month as long as they have a passport valid for at least 6 months, an issued return ticket and sufficient funds for their stay in Singapore.
For all other countries, please visit the Immigration & Checkpoints Authority (ICA) website for more detailed information on visa requirements to Singapore:
http://www.ica.gov.sg/services_centre.aspx?pageid=232&secid=20
Obtain Visa application forms from ICA's website: http://www.ica.gov.sg/services_centre.aspx?pageid=232&secid=20
Do I need a visa to visit Vietnam?
Tourists from countries listed below can visit Vietnam without an entry visa:
Most citizens of ASEAN member-countries: Thailand, Indonesia, Singapore, Malaysia, and Lao citizens do not need a Vietnam visa if their stay is less than 30 days; passport holders from the Philippines do not need a visa for up to 21 days; Brunei passport holders are not required a visa for Vietnam for a stay of up to 15 days. They could apply for popular passport type with return tickets. Citizens of Cambodia, Myanmar, and Timor-Leste are all required to get a visa to travel Vietnam.
Passport holders from Korea, Japan, and the Scandinavian nations (Norway, Denmark, Sweden, and Finland) do not need a visa to visit Vietnamif the stay is no more than 15 days. Russian passport holders are no longer required a visa totravel in Vietnamfor 15 days as long as they have return tickets.
All other citizens are required to get a Vietnam entry visa before landing, check with your local consulates or embassies for more information.

China Highlights
Planning a trip? Ask us here 800-2682918 (USA & CA)
86-773-2831999 (Int'l)
Q:
tina
Asked on 2013-03-31
Reply
hellooo, ai want to ask, am from Tanzania I can enter macao without visa four how long
Q:
lal muhammad
Asked on 2013-02-21
Reply
how to apply for hong kong visa here no have embassy in afghanistan and we also no have sponsor there my passport have visit this country dubai 2 time india 1 time china 3 years visa thailand one time macao 3 time pakistan 1 time how to apply hong kong visit visa thank
Dear lal muhammad, I suggest you contact the Chinese Embassy in Afghanistan directly, here is their information I searched on line. Please click: http://af.china-embassy.org/eng/sgxx/bgsjjdz/ Lussie Lu Replied on 2013-02-21
Q:
Aydin
Asked on 2013-02-19
Reply
Dear sir/madam, I am originally from Azerbaycan and I have a refugee travel document issues by the Goverment of The Netherlands. Do I need a visa to enter Hong Kong and how long does the procedure last for people in my situation? BR., Aydin
Dear Aydin, Based on your situation, I am not familiar with it and I suggest you ask the Chinese Embassy directly for the details. Here is their information. Please click: http://az.china-embassy.org/eng/sgxx/t426811.htm Lussie Lu Replied on 2013-02-19
Q:
ebrahim
Asked on 2013-01-21
Reply
Hi , I am Iranian and i want to travel to Thailand for one day only.Do i need a visa?please assist ?Thanks
Hi Ebrahim, yes, you need a visa.
Whitney Liao Replied on 2013-01-22
Q:
Jaja Rivera
Asked on 2013-01-21
Reply
I am from Philippines and currently working here in Taiwan?My contract will expire on December,and I am planning to work in Hongkong,...Is it ok if I am directly apply a work in Hongkong without going home anymore in Philippines?
Dear Sir or Madam, I regret that I am not familiar with how to apply for a work visa. As far as I know, you could stay in Hong Kong without a visa. I suggest you ask Chinese Embassy in your country for the details directly. Here is their official website. Please click: http://www.fmprc.gov.cn/ce/ceph/eng/sgxx/ Lussie Lu Replied on 2013-01-21