Urumqi Maps
Our Urumqi maps include a map of Urumqi's location and a Google Maps window with the city center pinned.
Other City Maps
View Urumqi details on Google map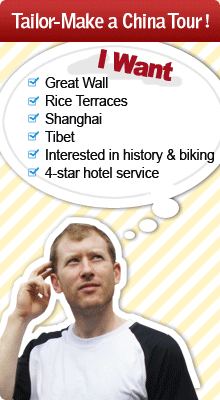 Planning a trip? Ask us here 800-2682918 (USA & CA)
86-773-2831999 (Int'l)
Q:
Frenchie
Asked on 2011-05-31
Reply
how far is Shanghai to urumqi?
Dear Frenchie, It's about 3900 km between Shanghai and Urumqi. You can take a flight to Urumqi directly. It takes about 5 hours and the full price is about US$648 excluding the tax and service fee. In general, you can get a discount. If you would like to book the flight ticket, you can submit your inquiry on our website. Please click here: http://www.chinahighlights.com/china-flights/flight-list.asp?QueryID=4004549&fcook=2011060110384331&star=sha&dest=urc&rDate=2011-6-15 Lussie Lu Replied on 2011-05-31
Q:
mohammadmubshar
Asked on 2011-05-04
Reply
any truck tyre company here.pls tell me
There are several truck tyre companies in Urumqi. Here are two of them: 1. Xinli Truck Tyre Company 新力轮胎有限公司 Address: Group 1, Fengtian Village, Beizhan Road (北站路丰田村2队) Tel: 0991-3871 805 2. Sen'gang Truck Tyre Company 森岗轮胎有限公司 Address: 50 Ale Tai Road (阿勒泰路50号) Tel: 0991-3832 837 Lynn Ye Replied on 2011-05-06
Q:
john jones
Asked on 2011-03-16
Reply
information on urumqi ?
Hi Jones Are you planning to visit Urumqi? When do you start your tour? How many people in your group? How many days you have? What other cities you like to visit? I am glad to help you with your tour, any query please feel free to contact me: william@chinahighlights.net William Travel advisor William Replied on 2011-03-17
Q:
Dimitrius
Asked on 2011-02-17
Reply
what major airport is near Urumqi?
Hi Dimitrius, There is only an airport in Urumqi, which its name is Urumqi Diwobao International airport. It's about 30 minutes driving from the centre of city. If you would like to book the flight ticket, please click the link below and submit your enquiry. http://www.chinahighlights.com/urumqi/flights-to-urumqi.htm We also provide various tour packages. When you tell us your need, we will be glad to arrange a itinerary for you. Lussie Lu Replied on 2011-02-18
Urumqi Travel Guide
Urumqi Facts
Chinese Name: 乌鲁木齐
Chinese Pinyin: wū lǔ mù qí
English Name: Urumqi
Location: Northwest China
Latitude: 43° 77′ N
Longitude : 87° 68' E
Area: 14,000 sq. km. (5,450 sq. mi.)
Time Zone : (UTC+8)
Area Code: 0991
Population: 2.33 million