Urumqi Facts
Name: Urumqi (乌鲁木齐; Wūlǔmùqí /oo-room-chee/)
Meaning: Mandarin rendering of 'beautiful pasture' in the Mongolian language
Previous names: Tihwa, Dihua, Luntai, Urabo
Features
Doorway to travel to the rest of Xinjiang
An important stop on ancient Silk Road
Ethnic mix of Hui,

Uyghur

and other minority ethnic groups.
Exotic shopping and dining
Russian, Mongolian, and Central Asian products are also available
Main Attractions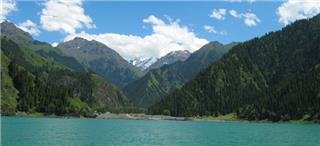 Beautiful scenery of Heavenly Lake
Museums: Xinjiang Museum, Xinjiang Silk Road Museum, Urumqi Museum, Xinjiang Geological and Mineral Museum
Most popular souvenirs and local products: Atlas silk, Xinjiang carpets,

Uyghur

handicrafts and other ethnic handicrafts and artwork
Most popular local food: Mutton kabobs, naan (bread), lamian noodles (handmade noodles),

Uyghur

nut cakes
History
The city is in a strategic lowlands pass to the Tarim Basin that is a conduit for travel between the east and the west and south.
648 The Tang Empire set up Luntai Town to tax the Silk Road traders along this northern route.
1220 The

Uyghur

Khaganate allied with the expanding Mongol Empire under Genghis Khan.
1670 The Uighur tribes revolted and formed the Zunghar Khanate.
1755 The Qing Empire army under Emperor Qianlong exterminated the Zunghars.
1933-1934 Battles took place during the Kumul Rebellion
Geography
Significance of the city: It is the largest city in a vast region. The location in the pass to the Tarim Basin makes it a transportation hub and a natural location for regional administration.
Geographical factoid: Urumqi has the Guinness world record for being the city that is the most remote from the sea in the world.
Nearby cities: Turpan (154 km/94 mi)
Municipality terrain: The city is in a lowlands between two parallel mountain ranges that span northwest to southeast.
Elevation: 800 m (2,600 ft)
Location Information
Municipality location: northwestern China
Municipality population: 3,110,280
Municipality area: 10,989 sq km (733 sq mi)
Municipality population density: 283/sq km (388/sq mi)
Urban area: 828 sq km (319.7 sq mi)
Urban population: 2,302146
Urban population density: 2,780/sq km (7,201/sq mi)
North to south distance of urban area: 17 km (10 mi)
East to west distance of urban area: 10 km (6 mi)
City center: Xinshi (43.85N, 87.58E)
Climate
Annual average low temperature in January: -16.6 °C (2.1 °F)
Annual average high temperature in July: 30 °C (86.1 °F)
Semi-arid climate; annual precipitation: 290 mm (11 in)
Winters are very cold and dry.
Economy
Average annual income: (2008) 43,311 RMB (5,600 USD)
Development: developing; the city is rapidly developing as a regional financial center, administrative city, and industrial center for largely undeveloped and vast Xinjiang Province.
Industry: 53% tertiary industry (services), 45.5% secondary (industry), 1.5% primary (animal husbandry, mining, agriculture)
CBD: in the Tianshan District (43.80N, 87.63E)
Shopping Streets: Grand Bazaar (Erdaoqiao), Hualin Market
Transportation
Urumqi Diwopu International Airport handled 9,100,000 passengers in 2010. It is China's 18th busiest airport.
1 train station
4 regular rail lines
3 national highways link there
Questions and Answers About Urumqi Facts
April Offer $25 Coupon
Send your inquiry before Apr. 30, 2014, and we will email you a $25 coupon.
The coupon is valid till Dec. 31, 2014, for paying tour packages worth $250 or up.
The coupon cannot be used for paying flight tickets, train tickets, hotel rooms and day trips.
Travel Advice or Question? Ask us here

China Highlights
Urumqi Travel Guide