Former Residence of Ho Chi Minh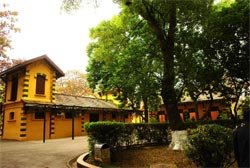 The residence is a wooden long-stemmed house. As he thought it was too much to live in Chairman Mansion, Ho Chi Minh often lived here. The lower part of the house is a reception room with tables and chairs for meetings. No walls can be found except pillars. When summer comes, it is a good place for coolness. There are two rooms in the upper part: one is bedroom with a plain wooden bed in it; the other is an office with just a wooden table and several wooden chairs. In general, it appears simple and elegant.
The main building in Chairman Mansion is a luxurious villa of French style. The garden in it boasts quietness, elegance and the rare Pusa trees. The tree roots grow upward and then grow into natural sculptures.
China Highlights