Hanoi Fine Arts Museum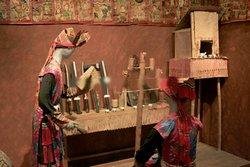 Stone age and bronze age artifacts
Attractive large French colonial building
See the development of modern Vietnamese artistic styles.
Gift shop
Near the Ho Chi Minh Former Residence, mausoleum, palace, and museum in the Old Quarter
Displays: idols or statues of different kinds, many paintings; metal, ceramic, and lacquer art objects
As you come through the front door, the pieces are generally arranged chronologically so that you can get an idea of how artistic techniques developed over time. Explaining the evolution of artistic techniques in the area is one of the museum's themes, and there are some sketchy English-language explanations about this.
Assessment of the collection: Many of the older pieces are reproductions of objects that were destroyed, but probably most are original. However, compared to the extensive and expensive collections of ancient precious objects on display at the museums in Hong Kong or other big cities, you won't be able to see as much representative art from pre-modern eras of history or find objects that are as valuable.
Gift Shops
You'll find the gift shop area and a place to get drinks at the end of the second floor hallway. There is an open exit near the flight of stairs, and if you go out, you find some steps leading down to the second floor of a wing. There are several shops and a refreshment room.
In the first shop you come to, you find mainly paintings and brightly colored prints, but there are also some books for sale. A mother of pearl chopstick holder sells for a dollar (20,000 dong).
The next shop to the right sells postcards, souvenirs and other art stuff. Prices for these start at a dollar. You can get a coke or another drink for 10,000 dong (50 US cents).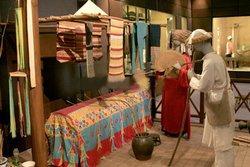 Hanoi Fine Arts Museum
History
While touring the museum, you'll have a chance to see the insides of a former French Colonial building. It was built in the 1930s, and was a rich girl's school. Its size and good state of preservation are impressive. Each of the three floors have high ceilings.
The wooden staircases are very finely crafted. They are actually beautifully designed and are works of art in themselves. If these were the original stairs, they have withstood the test of time and of hundreds of thousands of pairs of feet.
The museum was opened in the building in 1966.
Nearby Attractions
Palace of Literature (just on the other side of the street)
Ho Chi Minh Mausoleum complex (400 meters northwest)
One Pillar Pagoda (300 meters northwest)
Military Museum (200 meters northeast)
Travel Essentials
Address: 66 Nguyen Thai Hoc Street
Price: adults 20,000 dong (1 USD)
Hours: every day, 08:30am–5pm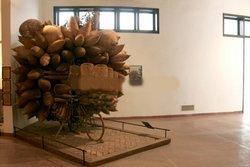 Hanoi Fine Arts Museum
Transport
Walk: A fun way to get there from the Old City is to simply walk and see some city life. You can walk there in about 35 minutes. Here are two routes.
Walk north of Hoan Kiem Lake: You can walk west along Hang Bac and Hang Bo and Bat Dan. You'll come to some fishy smelling stalls and railroad tracks. Turn right and go under the underpass at the first left. You'll come to the gate of a military base. You can't pass through though, but that isn't shown on most maps. So turn left and you'll be going south down Ly Nam De. When you get to Tran Phu turn right and then take the next left south on Ton That Thiep to Dien Bien Phu. Keep walking straight and you'll soon arrive at Nguyen Thai Hoc. Then follow that westwards for about half a kilometer.
Walk south of Hoan Kiem Lake: You can get to Nguyen Thai Hoc more directly by just going straight west down Trang Tien, Hang Khay, and Trang Thi. These are just four sections of the same straight street! But the name changes.
Buses: 2, 18 and 34 from the Old City stop nearby.
Beware couples on motorbikes touting taxi rides, etc. You may end up paying a lot of money for questionable service.

China Highlights