Ho Chi Minh's Mausoleum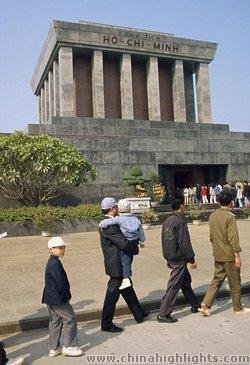 Large, pillared, granite and stone-faced building.
Contains his corpse that is apparently well preserved.
Hundreds or thousands file through each day it is opened.
Probably the building in Hanoi most visited by foreign tourists.
For Western tourists, a visit will probably be a striking experience.
Reminiscent of Lenin's Mausoleum in Moscow
Details
Opened: 1975
Dimensions: 21.6 meters (70.9 feet) high, and 41.2 meters (135.2 feet) wide
Construction: stone surfaces.
Access hallways: about 3 meters wide
Not far east of the Hanoi Old City area, where most Western tourists to Hanoi go, there is a large area of park, plaza, and grounds dedicated to Ho Chi Minh's Mausoleum, the Ho Chi Minh Museum, and the grounds and buildings of his former palace. The Mausoleum is his grand tomb, and it receives hundreds if not thousands of visitors filing through when it is open in the morning.
His corpse is on display in a darkened, polished stone-faced room. Quiet lines of Vietnamese and other visitors can see his body that is said to be strikingly well preserved.
The Mausoleum is built mainly of granite or other stone, and is quite big.
For Western tourists not used to the atmosphere, the tomb visit may feel disturbing or eerie. It is eerie to see a preserved body. The behavior of the staff and guards and the Vietnamese visitors may also feel disturbing. It provides a poignant taste of life in Vietnam when he was alive.
Part of a Large Museum and Palace Grounds Complex
The mausoleum and the surrounding museum complex and grounds is probably one of the two places most visited by foreign tourists. It is as big area, with three big attractions: his former palace grounds, his tomb and a museum about him. So on a trip to see the mausoleum, people can also see the museum and palace grounds too.
In front of the mausoleum, there is a grassy area that people are not allowed to walk on, and there is a plaza where rallies or marches are held. That is a good place to take a photo with the mausoleum as a background.
The mausoleum is in the center of the plaza where Ho Chi Minh announced the Declaration of Independence of Vietnam in 1945.
Touring the Mausoleum
When you enter the large grounds area, you'll first come to an small office where you may be ordered to hand over your bag. You'll get a small token to use to retrieve it. Then you'll have to wait in line as groups are assembled to march into the building.
If you have a camera, it will be taken from you and put in a special side room near the exit.
No cameras, exposed shoulders, or shorts above the knees are allowed. There is a red mat about two yards wide, and the Vietnamese visitors and the guards will tell you to keep on it as you march up to the door and pass through the narrow hallway to the tomb area. They may try to pull you on it if you walk off to the side of it, and they move you through.
Near the casket, you must be hushed. You are not allowed to get out of line.
The exit is close to the coffin. The exit is also close to the ticket gate of his former palace grounds. You don't need to enter the grounds if you don't want to. But a ticket to the grounds including a brochure is 25,000 dong. Remember to get your camera and bags.
Essential Details
Hours: 8 to 10:30 am (closed Monday, Friday, and some weeks in the winter). Make sure you get to the Mausoleum entrance area by 10 am.
Requirements: Small bags are allowed and pants must be below the knees. Shoulders must be covered. Keep quiet and keep in file.
Price: free.
Time for a visit: 20 minutes or more depending on the crowds.

China Highlights