Ho Chi Minh Presidential Palace Grounds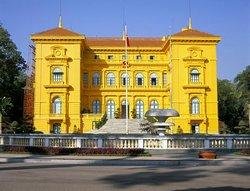 The former French governors' palace.
Preserved buildings, antique cars, and antique objects.
Large area includes gardens and a pond with large gold and black carp.
In the Ho Chi Minh Museum area, right next to the Ho Chi Minh Mausoleum exit, there is the main entrance of the palace grounds where he lived. However, tourists can't see into the buildings except one wooden one on stilts where it is said he lived for a time. A visit will give an idea of how sumptuously the French rulers lived and how Ho Chi Minh and his staff lived.
Palace Grounds Tour
Visitors are led around in a circle that starts at the gate, goes past the garage to the carp pond, goes by the stilt house, and ends at a place to get refreshments and gifts next to the exit.
Once you pay the 25,000 dong fee (1.25 USD), you get a one-page brochure written in French, Chinese, English, and Korean. But apparently, many people don't pay a fee and just walk through the gate. People can see the Presidential Palace, the former servants' quarters, his stilt house, a garden, his garage and three automobiles, and a fishpond.
Presidential Palace
The first thing visitors see near the entrance gate is the former presidential palace. It is a large honey-golden-mustard colored mansion four stories tall. But it isn't the shape or the size of a European palace.
It was built over a 6-year period and was completed in 1906. The architect was French, and the style is completely French.
It is said that Ho Chi Minh never lived in the main house. However, the building was used for meetings, and it is still used for important government meetings. It is said that he lived in the servants' quarters instead, a house in the same style by the carp pond, from 1954 to 1958.
Garage
Three cars are displayed in the garage. You can see them through windows. They are obviously antique, and one or two might be Russian-made sedans.
Carp Pond (Ao Ca Bac Ho)
For some people, their favorite sight in the whole complex and park are the big gold and black carp. Some are a foot long or more. They look like big goldfish. This is partly because visitor access to see buildings or leave the allowed path is limited.
People and guards may even try to stop you from seeing the carp in certain locations. But persistence, and perhaps some insistence, pays off. If you bring food, you can feed them.
It is said that Ho Chi Minh had the pond constructed.
Vietnamese-Style Stilt House
He had a Vietnamese-style wooden stilt house built. It is large for a stilt house and has two stories. It is said that he lived there from 1958 to 1969. People file past to see it.
Behind the house, there are old buildings that were perhaps staff, guard, or servant offices or quarters. People are not allowed in that area.
End of Tour: Gift Gift Shops and Fast Food
Those who wish may buy gifts and souvenirs. Hot dogs, water, drinks, and other fast food is available. Past the exit is the Ho Chi Minh Museum and the plaza.
Travel Essentials
Guidelines: People have to stay on the permitted path and can't wander around the grounds.
Hours: summer from 7:30 to 11 am and 2 to 4 pm; winter from 8 to 11 am and 1:30 to 4 pm.
Address: No. 1 Bach Thao, Ba Dinh.
Tickets: 25,000 dong, but apparently many visitors just walk in.

China Highlights