Vietnam Festivals
The country doesn't have religious festivals, but it has national holidays and the Chinese New Year. There are only 9 days of legal national holidays. The New Year holiday is the most popular.
New Year (Tet)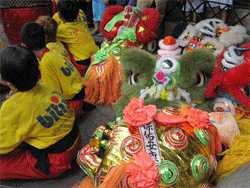 New Year (Tet)
Tet is the Chinese New Year festival. It is a three day major holiday that falls in January, February, or March each year. Most people try to go to their family home during this time, so the big cities look deserted. The shops are almost all closed, and families try to get together, have meals together and do family activities. The people feast on traditional food. There is a tradition that people should visit close family members on the first day of the festival. Then they visit close friends or colleagues on the second day of the festival. Finally, on the third day of the festival, they visit other people. Temples are open and many go to the local Taoist or Buddhist temples. Museums or public facilities may be open for free. The cities are lit up and decorated, but the festival is mainly meant for families to get together.
Dragon Boat Festival
During it, Vietnamese also eat rice dumpling and buy medical herbs as antiscolic. Parents will prepare their kids foods and fruits of sour flavor in the morning. Actually no one knows the exact reason.
Sing Festival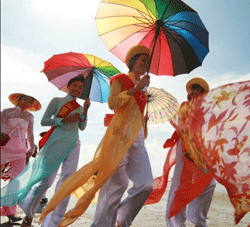 Sing Festival
It is a traditional festival of the Jings. It is a festival for singing songs. It is celebrated on June 10 in lunar calendar at some places while on August 10 in lunar calendar at other places. A special pavilion will be built in each village of Jings for shade supply, singing stage or other social activities. Once the Sing Festival comes, such activities as welcoming and memorizing ancestors, giving a feast, singing, dancing, performance will be held.
July Festival
It is a festival of La Chi people. It lasts 13 days from July 1 in lunar calendar. On the first day, every household will choose one man to bring wine and meat to their parents'. And then a ceremony of welcoming ancestors will be held by parents. During the following days, each household will hold the ceremony of sacrificing to god on the date set by their parents. It is allowed to talk with national language only within these days. On July 13 the festival will come to a peak as people will hold grand ceremony of "seeing off the ancestor" at their parents'.
Mid-Autumn Day
The Mid-autumn Festival isn't a national holiday, but it is a popular holiday for kids because quantities of mooncakes are distributed and eaten. Mooncakes in Vietnam are generally small and heavy square cakes that are made of flour, nuts and sometimes fruit. They sometimes taste good and sometimes have too much preservative. The festival falls on the day of the full moon in the middle of autumn. Since it is generally not cold, people like to go outside and watch the full moon. These are memorable family experiences.
Pangu Festival
Pangu Festival is the traditional festival of the Jings, being celebrated in the last third of the month. People will prepare chicken for sacrifice to memorize and worship Pangu who is said to created the world.
Festivals for Chinese
Chinese in Vietnam still keep the customs to sacrifice Chinese gods, therefore the birthday of all kinds of gods can be regarded as festivals. During those days, people will have some ceremonies and activities. On the birthday (February 23 in lunar calendar) of Goddess Matsu of the Sea, the grandest sacrifice will be carried out since Chinese there regard her as their protector.
Public holidays
From January to February: Tet Nguyen Dan—the New Year's Day in lunar calendar, lasting 3 days.
From April 5 to 20: Thanh Minh Festival—a day for memorizing the passed-away people
February 3: Establishment Day of the Communist Party of Vietnam
April 30: Liberation Day of Vietnam
May 1: Labor's Day
May 19: birthday of Ho Chi Minh
September 2: National Day of Vietnam

China Highlights