Wuhan Travel Guide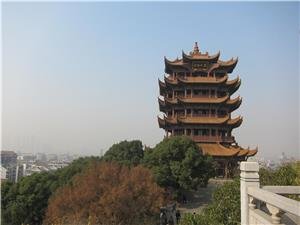 The Yellow Crane Tower
Wuhan(武汉; Wǔhàn) is an interesting large city in the inland central area of China that somehow feels less modernized than China's coastal cities or Beijing, but it is one of China's main high-tech, education and financial centers. It is China's 10th largest city. It is interesting for tourists because there are scenic areas and the big Yangtze River. The people are unusually cordial to foreigners. Because it is right in the middle of the navigable part of the Yangtze River between Shanghai on the coast and Sichuan and Chongqing far to the west, it has long been a transportation hub. The old town of Hankou that is now a part of modern Wuhan was China's second largest commercial center after Shanghai during the 1800s and early part of the 1900s. Prices for meals and transportation are low, transportation to the city is unusually convenient, and it is an interesting tourist destination and a good place to start a tour of the Yangtze River basin.
The Yangtze River Bridge in Wuhan
Wuhan is now the capital of Hubei Province that is an inland province. It has a population of about 10 million people in its administrative area, with about 6,000,000 people in the main urban area and about 4,000,000 people in surrounding suburbs and towns. It is divided into three parts by the Yangtze River and Han River. The Wuchang district is the education center with many universities and research centers, the Hankou area is the financial and business district, and the Hanyang district is the industrial center.
This city has a certain charm about it. The people are unusual friendly compared to those in other cities. And if you have the time for a cruise, you might really enjoy going up the Yangtze on a cruise liner.
Main Golf Courses in Wuhan
Wuhan Int. Golf Club 金银湖国际高尔夫俱乐部
Address: Jichang Road, Dongxihu District (东西湖区汉口天河机场路金山大道金银湖畔)
Tel: 027-8392 1561
Xinhua Golf Club 新华高尔夫俱乐部
Address: No.17, Xiahua Road, Jianghan District (江汉区新华路17号体育场内)
Tennis Courts
Yongfeng Tennis Club 永丰网球俱乐部
Address: Wuhan Gymnasium, Baofeng Road, Qiaokou District (硚口区宝丰路武汉体育馆)
Tel: 027-8375 8996-8888
Tennis Court in Jiefang Park 解放公园网球场
Address: Jiefang Park Road, Jiang'an District (江岸区汉口解放公园路)

Questions and Answers About Wuhan Travel Guide
Hannah
2013-07-23
Show Answer
what is the best time of year to visit Wuhan as well as the Chaibuxi National Park.
Dear Hannah, In Apr., May, Sep. and Oct. it is the best time for traveling. It is not too hot or too cold. The average temperature is about 20-25℃(68-77℉). Lussie Lu replied on 2013-07-24
nishit
2013-03-13
Show Answer
we are traveling to trade fair in Guangzhou, we would like to go to shanghai for the weekend, we dont have enough time is there a bullet train available for this route ? if so please give me details ? thank you
Dear Sir or Madam, There is no bullet train from Guangzhou to Shanghai, it takes about 16 hours by normal train. I suggest you take a flight to save the time. You could search a flight at a good price on our website. Please click: http://www.chinahighlights.com/china-flights/flight-list.asp?QueryID=4608707&fcook=2013031409455294&star=CAN&dest=SHA&rDate=2013-3-16 Lussie Lu replied on 2013-03-13
ashley vaughn
2012-12-17
Show Answer
how much does it cost?
Hi Ashley, what would you like to book, please?
Whitney Liao replied on 2012-12-18
emaan
2012-12-05
Show Answer
How far is urumqi train station from urumqi airport?
Dear Sir or Madam, It is about 18 km from the train station to the airport. You could take a taxi to International Airport station to take No. 51 bus, which it is about 1 km from the airport. Then you could get off at railway station. Lussie Lu replied on 2012-12-06
kwok
2012-06-12
Show Answer
Is there a fast train service to Wuhan from Guangzhou and the fare?
Thank you for your enquiry, the fast train from Guangzhou to Wuhan are very frequent from early morning to evening,it takes about 4hours journey,the first Class seat cost 121$/per. please check our website to see the detail http://www.chinahighlights.com/china-trains/ please feel free to let me know if you need anything else Lily Guo replied on 2012-06-13
April Offer $25 Coupon
Send your inquiry before Apr. 30, 2014, and we will email you a $25 coupon.
The coupon is valid till Dec. 31, 2014, for paying tour packages worth $250 or up.
The coupon cannot be used for paying flight tickets, train tickets, hotel rooms and day trips.
Travel Advice or Question? Ask us here