Wuhan Transportation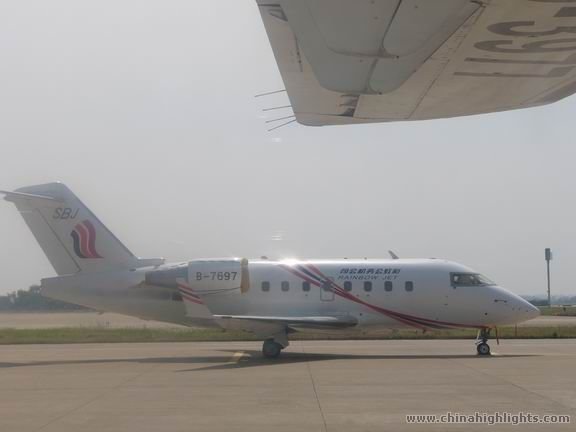 It is a big city in a central location and at the convergence of the navigable Han River and the Yangtze River, so Wuhan has been a shipping, rail, and highway hub between northern and southern China and the coastal cities and western China. So getting there is fairly easy, and once you are there, you can go more easily and quickly to other areas in China. In particular, the new bullet train system between Wuhan, Shanghai, Beijing, Guangzhou and Shenzhen makes for quicker and easier transportation between these cities and Central China.
Check out Wuhan-Guangzhou transportation.
Railway
Wuhan, as one of the four major railway hubs in China, is the at the crossway of Beijing - Guangzhou railway line, Hankou - Danjiangkou railway line and some other important railway lines. Every day trains depart from Wuhan to almost every city inside Hubei province and trains are available for getting to major cities in China, like Beijing, Shanghai, Harbin, Urumqi, Luoyang, Chongqing, Xi'an, Kunming, Chengdu, Liuzhou, Guangzhou, Nanchang and Hefei. There are over 70 trains departing from the station every day and more than 120 trains pass here.
Bullet trains are available between Wuhan and seven cities. By taking a bullet train, it only takes 4 hours to get to Guangzhou, 4 hour to Zhengzhou and 9 hours to Beijing.
There are three main railway stations in Wuhan, namely Wuhan Railway Station, Wuchang railway station and Hankou Railway Station. Wuhan Railway Station offers passenger service on the Beijing - Guangzhou Railway Line; Hankou railway station is mainly responsible for travelers on the Shanghai - Wuhan - Chengdu line and Wuchang railway station is mainly responsible for freight and general transport.
Tip: Because the three train stations are not close to each other, travelers should make sure in advance which station they should go to board the train.
Introduction of Wuhan Railway Stations
Wuhan Railway Station
Location: Wuhan Railway Stations is near Yangchun Lake, Qingshan District, Wuhan City (武汉市青山区杨春湖附近)
Transportation: travelers can take city buses No. 234, 540, 551, 610, 643, 725 and 734 to get to the railway station.
Inquiry Phone Number: 027-87222222
Wuchang Railway Station
Location: Zhongshan Road, Wuchang District (武汉市武昌区中山路)
Transportation: travelers can take city buses No.10, 22, 31,33,34, 59,61,66,74,507,510,511, 518,539,556,564,571, 578, 593,706,717 and 729 to get to Wuchang Railway Station.
Inquiry Phone Number: 027-88068888
Hankou Railway Station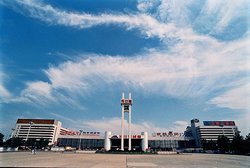 Wuhan Hankou Railway Station
Location: Jinjiadun Jianghan District (武汉市江汉区金家墩)
Transportation: Travelers can take city buses No. 9,10, 38,79,509,512,519,533,536,542,545, 547,561,604,605 and 803 to get to the station.
Inquiry Phone Number: 027-65650666
Air
The Tianhe International Airport is the biggest airport in central China, located 26km northwest of Wuhan. Transport between the airport and the urban area is very convenient. Every hour, one airport coach leaves for the long-distance bus station which is near the Hankou Railway Station, and vice versa. The journey takes approximately 23 minutes. The price of a ticket is 15 Yuan. There are many daily flights linking Wuhan and numerous other destinations. People can get to many major cities of China such as Beijing, Shanghai, Nanjing, Zhengzhou, Guangzhou, Nanchang, Fuzhou and Chengdu as well as all the big cities in the world.
Airport Enquiry: 027-85818888
Southern Airlines Enquiry: 027-85300000
Eastern Airlines Enquiry: 027-63623820
Ticket Offices:
Air China: 027-83786780
Southwest Branch of Air China: 027-83619392
City Transportation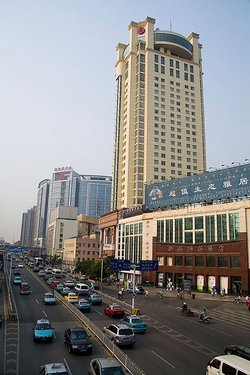 Wuhan City Transportation
In Wuhan, getting around town is relatively convenient. There are electric buses, regular buses, a light urban railway, regular car taxis and special Chinese motorized tricycle taxis as well as guys offering rides on their motorbikes for a ride.
Bus
There are a lot of buses all over the city that usually cost 2 RMB (about 30 US cents) to ride. However, signs are generally only in Chinese. The buses are often crowded with standing room only. The Tourist Line 402 can take tourists to the Yellow Crane Tower and East Lake.
Taxi
The starting price for a taxi is 3 yuan for one kilometer, 5 yuan for two kilometers and 8 yuan for three kilometers. It's 1.4 yuan for every additional kilometer from 3 to 7 kilometers. Beyond 7 kilometers, it cost 2.1 yuan for every additional kilometer.
When you get in a regular taxi, make sure they use their meters. Also make sure that you bring small bills.
Bus/Coach
Wuhan is the largest transportation hub in central China. Highways radiate in all directions. There are several bus stations in the city and the main stations are as follows:
Jinjiadun Passenger Station in Hankou: 027-85870482 (at No. 170, Fazhan Avenue opposite the Hankou Railway Station)
Fujiapo Passenger Station in Wuchang: 027-87274817, toll free: 800-8809188 (at No. 262, Wuluo Road, Wuchang)
Long Distance Bus Station: 027-85792444, toll free: 800-8806868 (at Xinhua Road, Hankou)
Hongji Passenger Station in Wuchang: 027-88074968, toll free: 800-8809166 (near the Wuchang Railway Station)
Waterway
Wuhan is one of the largest intermediate ports along the Yangtze River in China. There are passenger ships between Wuhan and Shanghai as well as Wuhan and Chongqing. Because the speed of ships is relatively slow, the number of passengers who go to Wuhan by ship has decreased sharply in recent years. Therefore, less passenger ships depart every day. If you want to take it, you'd better inquire about it beforehand.
Wuhan Passenger Port: 027-82839546

China Highlights
Planning a trip? Ask us here 800-2682918 (USA & CA)
86-773-2831999 (Int'l)
Q:
ethan
Asked on 2013-04-26
Reply
hi i m planning a trip to urmqi from wuhan . can u suggest me something i m entangled .how much it cost if i take train , and if by plane then .. thank you
Q:
Qasim
Asked on 2013-04-18
Reply
Hello ...I am living near wuchang station and i want to visit east lake park ..please guide me how I can reach there In cheapest way
Dear Qasim, There is no direct bus from the station to the park. You need to go to Wuhan Wuchang station(武汉武昌站)to take No. 540 bus, then get off at Wuchang station east square station(武昌火车站东广场站), then go to Zhongbei Road Yaojialing street station(中北路姚家岭街站), where is about 100 meters from East Lake park. It is cheap to take a bus, but it's not convenient for you. I suggest you take a taxi directly, it is about 9 km and it takes about half an hour. The cost is about CNY30/US$5. Lussie Lu Replied on 2013-04-18
Q:
Apple Pascual
Asked on 2013-02-25
Reply
Hi! I would like to ask, what is the cheapest (but convenient) way to go to Wuhan coming from Shanghai? I need to go the College of Foreign Studies in Wuhan University for enrollment until this Friday. I will be arriving in Shanghai on the 28th of February. Thank you!
Dear Apple, You could take a bullet train from Shanghai to Wuhan, it takes about 6 hours. The cost of the second class is about US$43 per person. Lussie Lu Replied on 2013-02-26
Q:
kirthi basnayake
Asked on 2013-02-02
Reply
any buses from wuhan to beijing and where can i get it
Hi Kirthi, I suggest that you take bullet train(D train) or high speed train(G train) from Wuhan Railway Station to Beijing directly. It takes about 4.5-7.5hrs. If you prefer bus, then you can go to Jinjiadun Bus Station金家墩汽车站 to take it. Whitney Liao Replied on 2013-02-03
Q:
Jonas
Asked on 2012-12-25
Reply
Hi,Where and when are buses leaving from Wuhan to Zhongxiang?I probably arrive Wuhan around 3pm by plane.Thanks for your help!Jonas
Hi Jonas, the buses from Wuhan Fujiapo Long-distance Bus Station武汉傅家坡长途汽车站 to Zhongxiang are available from 08:30 to 18:00. From the airport to Fujiapo Long-distance Bus Station is about 35km, 60mins, CNY80-100 by taxi.
Whitney Liao Replied on 2012-12-26
Wuhan Travel Guide