Xiamen Weather in June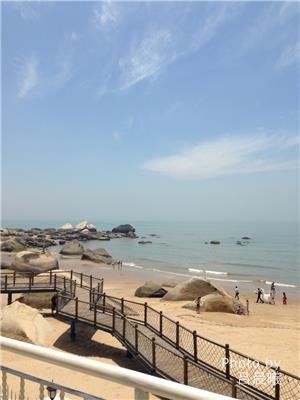 Gulangyu Island
Weather: The rainy season lasts until August. During June, the minimum temperature is 23 °C (73 °F), and the maximum temperature is 29 °C (84 °F).
June has the highest of rainfall of all the months. In June, total rainfall averages 185 millimeters (7 inches), and the month sees about 15 rainy days. It is also the most humid month. The average relative humidity hits 86%. Average wind speed during the month is only 3 m/s. Given the increasing rainfall, the change in average monthly temperature is at its lowest, at 6 °C (42 °F). See the current weather and forecast>>
Clothing: Summer clothes such as shorts, shirts, and skirts are advised. As rainfall is frequent, bring an umbrella.
Things to Do
Watch the Dragon Boat Festival: The annual festival falls on the fifth day of the fifth lunar month. This is usually in June. It is also called the 5th Day Festival in Xiamen. In 2014, it is on June 2. It is held in the municipal district of Jimei and is north of the Xiamen airport. It has been a big festival race for years, where dragon boat racers vie for the prize. It is also called the Jimei Dragon Boat (集美龙舟) Races.
Take a walk in Gulangyu Island: On the nearby island, you can enjoy the sea scenery, the restaurants, the coffee shops, and the tea parlors. It is only five minutes away by ferry. The narrow lanes have old colonial architecture that date from before WWII when the island was a foreign settlement. It is a pedestrian tourist area, and you can shop for souvenirs.
Mount Wuyi Park: This is a natural park in Fujian Province with numerous high stairways that lead to scenic overlooks. You can do a lot of stair climbing. If you don't want the exercise, you can see the highlights by vehicle or take a river rafting trip. Nine-Bend Stream has scenic red sandstone formations that stand out against the skyline. The park is a noted wildlife sanctuary.
High Travel Season
June is during the peak travel season for visiting Xiamen, so book your tickets in advance. Hotel rates are often higher than usual during this month, and tourist attractions are crowded. By our experience, we can help you book a room you'll enjoy, perhaps at a discount, and help you get your flight and train tickets. Why wait in line to get tickets during this busy travel season?
China Highlights Tours
China Highlights plans both personal and group tours for tourists throughout the country. Now on a trip to Xiamen, you can take a four-hour bullet train to Hong Kong. The tickets are inexpensive (less than 33 USD for a first class ticket), so you can conveniently combine a Xiamen tour with a tour of the cities around the Pearl River. We offer a combined Guangzhou and Xiamen Tour that you can modify as per your interests to include Macau, Shenzhen, and Hong Kong.
Further Reading
Xiamen Climate Information by Month
Questions and Answers About Xiamen Weather in June
Ron Manson
2011-04-12
Show Answer
What is Xiamen and related Fuijian area weather in June. eg. temperature and general conditions. Thank you
Hi Ron Manson, Based on the former data, the temperature is about 22-30°C. It's comfortable and it's a golden season for travel in Xiamen. In June Xiamen is visited by typhoon some times. In addition, we specialize in designing a tailor-made China tour. There are many Xiamen tours on our website. Click here: http://www.chinahighlights.com/xiamen/tours.htm If you would like to travel to Xiamen or any other cities, or if you have any other questions, please feel free to contact me directly and I am glad to serve you. My e-mail address is lussie@chinahighlight.com Lussie Lu replied on 2011-04-14
April Offer $25 Coupon
Send your inquiry before Apr. 30, 2014, and we will email you a $25 coupon.
The coupon is valid till Dec. 31, 2014, for paying tour packages worth $250 or up.
The coupon cannot be used for paying flight tickets, train tickets, hotel rooms and day trips.
Travel Advice or Question? Ask us here

China Highlights
Xiamen Travel Guide