Shaanxi Province Map
Our Shaanxi province map shows the administrative area of Shaanxi province and its main cities.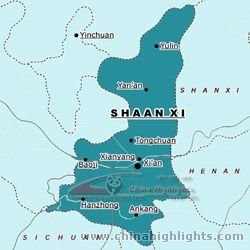 Questions and Answers About Shaanxi Province Map
Ran mi
2013-10-07
Show Answer
Hello..is this two address near each other? Jinsu garden,tangyan road and sun xian , shaanxi Wei yang road, hoi wing of fengcheng city..thanks
Hi Ran mi, do you have the name in Chinese? It is hard to judge which road you meant according to the English name.
Simon Huang replied on 2013-10-08
You might like

The Most Popular Night Markets in Xi'an

China Highlights
Xi'an Travel Guide