Xi'an Weather in June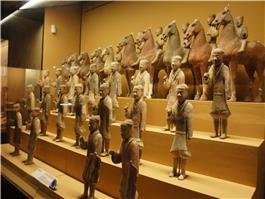 Shaanxi History Museum
Weather: June marks the beginning of the "Xi'an furnace city" months of summer. It is hot during the daytime with the average daily high temperature at 31 °C (88 °F), though it can get to over 40 °C (105 °F). The average low temperature is around 19 °C (66 °F). Xi'an has a dry climate and gets about 54 mm of rain in June. It rains about 9 days each June.
Clothing: You'll need summer clothing.
Things to Do
It is time to go out and enjoy yourself outdoors, or on rainy days, go to Shaanxi History Museum: It's a national museum dedicated to the history of Xi'an, the capital city of many old dynasties and kingdoms. The exhibits range from exhibits from the Bronze Age, to Terracotta Army pieces of the Qin Empire, to the Tang Dynasty, and to modern times. It is considered one of the best museums in the country.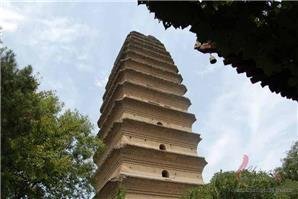 Small Wild Goose Pagoda
You'll need more than two hours to get a good look at the large array of artifacts and to take in information. It is a good place to learn about China. Entrance is free, so you might find it crowded. It is next to the Big Wild Goose Pagoda.
See the Small Wild Goose Pagoda: This famous attraction actually dates from the Tang Dynasty, 709 AD. It is a favorite attraction of foreign tourists partly because you can climb up the inner stairway to look around. The pagoda is in a garden setting with a rose garden and a pond with geese.
The ancient pagoda building is now on the grounds of the Xi'an Museum. Entrance to the museum building is free, and it exhibits tens of thousands of precious artifacts that show the splendid history and culture of Xi'an.
See the Nanshaomen Night Market: This night market (南稍门夜市) is one of the most popular in the city. See how the local people shop and enjoy themselves at night. It is a place to get souvenirs and have an inexpensive meal.
June is in the peak travel season. Hotel rooms, flights and train tickets are in high demand. Book your tour in advance if you plan to travel.
China Highlights Tours
See the best of Xi'an with ourXi'an tours. Our tours are developed through years of experience and customer feedback, reasonably priced, and can be customized to your requirements. Let us help you plan a personalized Xi'an tour. If you are interested in touring the ancient capital, including any of these places, or just want to book reservations for hotels, contact us.
Further Reading
Xi'an Climate Information by Month
Questions and Answers About Xi'an Weather in June
April Offer $25 Coupon
Send your inquiry before Apr. 30, 2014, and we will email you a $25 coupon.
The coupon is valid till Dec. 31, 2014, for paying tour packages worth $250 or up.
The coupon cannot be used for paying flight tickets, train tickets, hotel rooms and day trips.
Travel Advice or Question? Ask us here
You might like

The Most Popular Night Markets in Xi'an

China Highlights
Xi'an Travel Guide