Map of Xishuanbanna's Location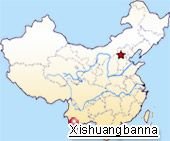 Customer's questions about this page
Q
how can i travel from Xishuangbanna to Guilin? How long it's take to get there?
Asked by tai (2011-12-09) Reply
A
Lee Li (2011-12-09) replied:
It takes about 1 hour from Xishuangbanna to Kunming by air. And another one and half hour flight from Kunming to Guilin. Please contact us if you need the flights arrangements.
Planning a trip? Ask us here 800-2682918 (USA & CA)
86-773-2831999 (Int'l)