Ya'an Travel Guide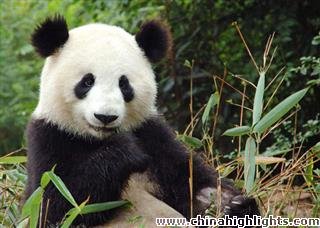 Giant Panda
Ya'an is famous firstly for pandas and secondly for tea. See below.
Ya'an was hit by a major earthquake on May 20, 2013. The epicenter was in Lushan County, Ya'an Prefecture, Sichuan Province, around 100 kilometers from Chengdu, home to China's biggest panda research center at Bifengxia.
Chengdu and Leshan tourism was unaffected. However, Bifengxia Giant Panda Base was closed because of continuing aftershocks. Tourism in Ya'an, including Bifengxia, was suspended at least until after the May golden week holiday (May 1–7). A great alternative to Bifengxia is Chengdu's Giant Panda Breeding and Research Base.
April 20, 2013 Ya'an Earthquake Map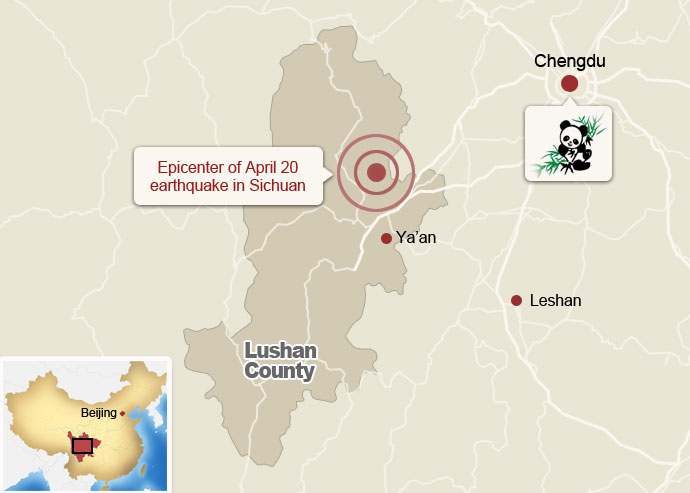 Ya'an's Giant Pandas
Known as the hometown of giant pandas, Ya'an was the place where the first panda was discovered. The number and density of giant pandas in Ya'an is first in the world.
Bifengxia Giant Panda Base is the world's largest panda breeding and research establishment. It has a volunteer program, which allows participants to feed, care for, and learn about the pandas for a half-day, a day, or more. China Highlights giant panda tours include opportunities to participate as a volunteer and get close to the pandas.
Ya'an's Tea Culture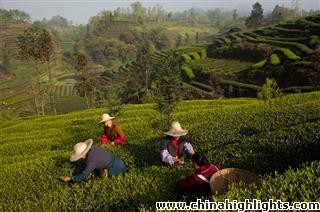 Chinese Farmers Picking Tea
Ya'an is one of the birthplaces of Chinese tea culture. Its tea growing history can be traced back to the Western Han Dynasty over 2,000 years ago. Tea trees planted on Mount Mengding by a herdsman were believed to be the ancestors of China's tea. Even today, tea grown at Mount Mengding is still considered superior.
Ya'an is the starting point of the Sichuan-Tibet stretch of the Tea Horse Road.
The brick tea produced in Ya'an, which was called frontiers tea was carried by caravans from Mount Erlang to Tibet, and further afield to India and Nepal in exchange for horses, drugs, etc. Tea trading activities went on for centuries, which boosted Ya'an's economy and brought peace and stability to the frontier regions.
Chengdu is one of
China's Top Tea Cities
, in part due to Ya'an's tea history.
Mount Erlang
Mt. Erlang is characterized by primitive forests, varied wildlife, rugged mountains, and unspoiled streams. The view from the mountain summit is superb, with towering peaks often cloaked in mist, like a white dragon rolling in from the sea. Visit for the views, exploring tea history, and buying tea straight from the plantation.
Mount Mengding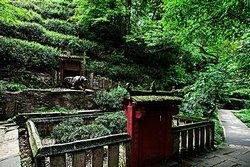 Mt. Mengding in Ya'an
The ancient tea garden at Mount Mengding Tourism Area consists of a royal garden where Wu Lizhen, the founder of Mengdingshan Tea in the Han Dynasty (206 BC – 220 AD), planted seven seeds of "miraculous tea". Ancient stone trails lead from the Palace of King Shu to Tiangai Temple and a tea museum.
Ya'an Climate
Ya'an has a subtropical monsoon mountain climate. Spring, which is cool to cold with a lot of rain, is not a recommended travel season.
Accomodation in Ya'an
Do not expect too much in comfort in accommodation while traveling Ya'an. Most of the hotels in the city only cater to Chinese visitors and English is little spoken. The Ya'an Hotel and Ya'an Yudou Hotel are considered the best two hotels in the small city.
Transportation to Ya'an
Ya'an on the edge of the Tibetan plateau foothills is a gateway from Sichuan to Tibet. There are no trains or flights to Ya'an, and the only practicable way is by highway.
Ya'an city is served by three bus stations, but Ya'an Tourist Station is most used by travelers. The tourist bus station lies at the junction of Bei'er Road and Yabi Road, with buses serving Chengdu, Leshan, and Kangding.
Planning a trip? Ask us here 800-2682918 (USA & CA)
86-773-2831999 (Int'l)
Q:
Nida
Asked on 2013-11-05
Reply
hi, when arrive chengdu airport, can we find taxi and how long to get to ya''an?
Hi Nida, yes, there are many taxi from the airport. It is about 150 km from Chengdu airport to Ya'an.
Simon Huang Replied on 2013-11-05
Q:
Diem
Asked on 2013-09-09
Reply
Do you know where I can find the bus timetable for buses to Leshan from Ya''an?
Dear Diem,
The buses leave from Ya'an to Leshan stars from 7:30AM at hourly intervals. It takes around 2 hours drive and bus ticket costs CNY160-CNY180 per person.
Nancy

Nancy Deng Replied on 2013-09-10
Q:
Ana
Asked on 2012-11-18
Reply
Hi, how much time is it by bus from Chengdu to Ya''an?Thanks so much
Hi Ana, it is about CNY50/PP.
Whitney Liao Replied on 2012-11-18
Q:
sally Meisenehdler
Asked on 2012-07-06
Reply
Are there busses that go from Ya''an to Kangding? How long does it take and how often do they go. Also is the panda reserve open now?
Dear Sally, There many coach depart from Ya''an to Kangding every day. You could buy the tickets at Ya''an West Gate bus station. The ticket is CNY75/person. Departure time is: 8:00,10:00,11:00,13:00,15:00, about 229km to Kangding. There are also some private bus transfer from Ya''an to Kangding. The Panda reserve open to tourists in whole year. Please contact us should you need China tour service. Lily Lee Lily Lee Replied on 2012-07-09
Q:
Alessandra
Asked on 2012-04-20
Reply
what is the nearest village to Bifenxian giant panda reserve?and is there a cheap youth hostel?
Dear Alessandra, The nearest village where have hotel or hostel is Yaan. Yaan is around 30 minutes drive to Bifengxia Giant Panda Reserve. As a travel advisor at China Highlights, I am glad to arrange a tour package include tour guide, car, hotel and attractions for you. Please feel free let me know if you have any further tour request. Nancy Nancy Deng Replied on 2012-04-21
Ya'an Travel Guide
Ya'an Facts
Chinese Name: 雅安
Chinese Pinyin: yǎ ān
English Name: Ya'an
Location: Southwest China
Latitude: 29° 97' N
Longitude: 102° 97' E
Area: 15,314 sq. km. (6,913 sq. mi.)
Time Zone: (UTC+8)
Area Code: 0835
Population: 1.5 million