Butterfly Spring
Features
1. Butterfly Spring is the largest live butterfly garden in China.
2. There are tens of thousands of butterflies living in harmony with humans.
3. It is now an eco-tourism scenic spot, integrating fantastic mountains, clear water, mystic caves and idyllic scenery.
Overview
Butterfly Spring Park is located in the best traveling place of Moon Hill Scenic Area in Yangshuo, and covers an area of 36,000 square meters (3.9 square miles). Butterfly Spring (蝴蝶泉) gets its name because there are thousands of butterflies living in the park, a butterfly-like stalactite found in the grotto of the park and a spring of clear water streaming out from the grotto. As a locale which brings together both a unique landscape and a rural setting, it is a typical representative of ecotourism sites in Yangshuo.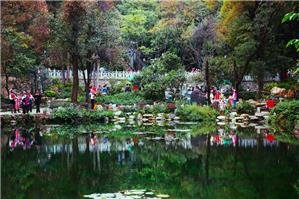 Butterfly Spring
Except for the spring and the grotto, the park is most famous for millions of living butterflies from home and abroad. Visitors can see the colorful butterflies flying leisurely among the bushes. In the Butterfly Exhibition Hall of the park, over ten thousand butterfly specimens and related artworks on 300 butterfly varieties are on display. At the entrance to the Butterfly Spring Park a huge Monarch Butterfly model is mounted on the cliff beside the gate. The model has an area over 280 square meters (0.07 acres) and looks so vivid that people may think the butterfly is waving its wings to welcome visitors. In the Butterfly Spring Park, in addition, many other attractions are worth visiting, such as the Waterfalls on Butterfly Hill, the Butterfly Bridge, the Honeybee Garden, the unique Original Hanging Bridge of Yangshuo and the Honeybee Garden.
What is more, the peculiar Karst landscape offers an ideal place for rock climbing and includes a professional rock climbing line as long as 25 meters (82 ft). Visitors can enjoy this breathtaking and exciting activity after appreciating the beauty of the butterflies and the spring.
Travel Essentials
Ticket Fare: 45 RMB
How to Get There: Visitors can take sightseeing buses in Yangshuo Station to the Butterfly Spring, meanwhile, visitors also can go there by the bikes they rented, and the Butterfly Spring is not far away from the Moon Hill.
Questions and Answers About Butterfly Spring
April Offer $25 Coupon
Send your inquiry before Apr. 30, 2014, and we will email you a $25 coupon.
The coupon is valid till Dec. 31, 2014, for paying tour packages worth $250 or up.
The coupon cannot be used for paying flight tickets, train tickets, hotel rooms and day trips.
Travel Advice or Question? Ask us here

China Highlights