The Moon Hill
Named after its moon-shaped hole, Moon Hill is one of the highlights of Yangshuo's countryside. As surely as Elephant Hill is the most iconic among Guilin's hills, Moon Hill is Yangshuo's icon.
Features of Moon Hill
The moon-shaped hole measures 50 m wide and 50 m tall, under the arch of which are stalactites of various shapes. One of the stalactite resembles the jade rabbit (the mythical character that is said to sit with Chang'e in the moon palace — see Moon Festival Legends).
The walk up to the hole is on about 1,000 stone steps (15–20 minutes' walk). The summit is a further 10–15 minutes' climb on a rough mountainside path. The scenery from the half moon, or better still the summit, is well worth the trek. It is the best you will get in the area with easy access.
At foot of the hill lies a tiny village called Moon Hill Village. The village offers refreshments.
Li Village (Li Cun 历村 /lee tswnn/), the other side of the main road offers hotel accommodation and restaurants. The other side of Li Village is the continuation of a cycling route on smaller roads through the villages. Viewing the hole from various angles on the road the other side of Li Village it is like seeing the phases of the moon.
Best Time to Visit
A cycling route through Li village.
The best time to visit Moon Hill is in autumn, as it is drier, and the temperature is mild. If climbing the hill in the summer, early morning and late afternoon are less hot.
Travel Essentials
Location: one kilometer southwest of the Big Banyan Tree, 2.5 kilometers southwest of Butterfly Spring, and eight kilometers south of Yangshuo
Opening hours: 8:00 a.m. – 5:30 p.m.
Transport: It takes about an hour to ride a bike (rented at West Street) to Moon Hill. Minibuses to Gaotian (高田 /gow-tyen/) from Yangshuo Bus Station stop at Moon Hill (月亮山 Yueliang Shan /ywair-lyang shan/).
Recommended Yangshuo Tours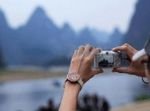 China Highlights