Silver Cave
Summary
Silver Cave is a tiered dissolved cave of some 2,000 meters long. Various stalactites developed in different geologic ages in Silver Cave constitute awe-inspiring scenery.
Features
1. Silver Cave is the largest cave in Guilin; it is about 2,000 meters long.
2. About 85 kilometers (53 miles) from Guilin urban area, 18 kilometers (11 miles) from Yangshuo Town, it covers about one square kilometer (0.4 square miles).
3. Stalactites developed in different geologic ages in Silver Cave constitute various awe-inspiring sights.
4. Silver Cave Tourist Area has been honored with the description: "a typical representative of Guilin landscape".
5. Surrounded by hills and peach trees, Silver Cave Tourist Area shows you a picture of harmonious rural scenery.
6. Silver Cave Tourist Area has the full range of services for tourism, eating, accommodation, entertainment and shopping.
Overview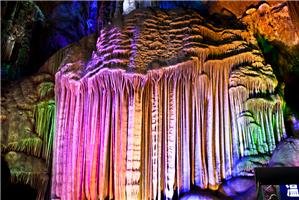 The Silver Cave looks colorful in the light
Silver Cave is a scenic highlight of Guilin. It is a karst cave running through 12 mountains with a roundabout course about 2,000 meters (1.3 miles) long. It is regarded as full of "great wonders". If you like natural wonders, it is a great place to go. The stalactites, in shapes of pillars, towers, curtains, and waterfalls enhanced by colorful lighting, will show you dozens of gorgeous sights.
Silver Cave is divided into three parts: the upper cave, the grand hall, and the lower cave. Walking in the fascinating gallery formed by dazzling and twinkling rocks, visitors can profoundly understand the origin of the name "Silver Cave". All the rocks in Silver Cave contain mineral crystal. When lighting illuminates the rocks, they reflect a silvery sheen and glint like silver. Hence the cave is turned into a splendid underground palace by these star-spangled stalactites.
The stalactites in the cave can be divided into four types according to their ages: the old, the middle-aged, the young, and the infantile. A pale straw color, the old record the sediment of years; the middle-aged and the young shine with a cream-color; and the infantile are silvery as jade.
Touring Activities
1. Visit Silver Cave.
2. Have a walk in the peach grove.
3. Fishing and boating on Qing Lake.
4. Do rock climbing at Red Rock.
Travel Essentials
1. Location: Silver Cave is in Lipu County, 85 kilometers (53 miles) to the south of Guilin.
2. Operating hours: 08:30 to 17:30, 90 yuan per adult and half price for children (1.00 meter–1.40 meters (3.3–4.7 ft) tall).
3. How to get there: Every day, there are many buses departing to Lipu County from Guilin and Yangshuo bus stations. Be sure to take a bus that allows you to get off on route. Get out at Silver Cave (银子岩 Yinzi Yan /Yin-dzrr Yen/).
Nearby Attractions
1. Fengyu Cave Tourist Area is another tourist area with a large karst cave (5.3 km (3.3 miles long) and a 3.7-km (2.3-mile) long underground river.
2. Tianhe Waterfall. Visitors can appreciate the waterfall, have a walk in the virgin forest, and have a close encounter with unique Yao folk customs.
Questions and Answers About Silver Cave
April Offer $25 Coupon
Send your inquiry before Apr. 30, 2014, and we will email you a $25 coupon.
The coupon is valid till Dec. 31, 2014, for paying tour packages worth $250 or up.
The coupon cannot be used for paying flight tickets, train tickets, hotel rooms and day trips.
Travel Advice or Question? Ask us here

China Highlights