Yangshuo Countryside Cycling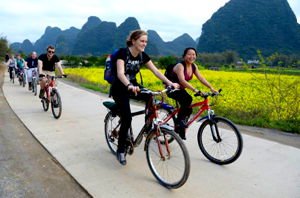 Yangshuo countryside cycling
Biking could be one of the best outdoor activities in Yangshuo to see the other face of China. Yangshuo is about 1.5 hours away from Guilin, and it is regarded as a paradise for people who want to get some fresh air. Surrounded by limestone pinnacles and rice paddies, having two clean rivers passing through, Yangshuo provides tourists from all over the world a perfect atmosphere to get close to the nature. It is charming and special in the fast-paced world to do a leisurely bike ride to appreciate the real countryside. There are many routes to choose from, and these different routes can be from very relaxing to very adventurous depending on your needs.
Things to see and do on the biking trip
Things you need to knowAlong dirt roads, through little villages, you will visit a local farmer house, watch people work in rice paddy fields, negotiate water buffaloes and taste fresh fruits. If you wish to talk to local people, go ahead, feel their hospitality! It is not only for an exercise of biking, but also a taste of the local culture, sense of peace in mind. The most popular thing to do with biking is to take a bamboo rafting on Yulong River.
Traffic before biking into the countryside
You will experience the hustle and bustle of Yangshuo before you hit the country roads, in 10 minutes, you will leave behind hotels, restaurants and a gas station then onto a much quieter lane. The traffic out of town can be busy sometimes, stop and push the bike if you feel difficult to ride. Bells are usually not available on bikes, helmets could be arranged at an additional cost if you request it beforehand.
The country roads can be very country
It needs to get away from roads to paths to experience a true adventure. There are four popular biking routes around Yangshuo, the road conditions are more or less the same in the countryside-bumpy, it may get muddy and slippery when it rains, and watch out for pot holes!- that is how the adventure comes from! There are no tall trees for shades along the way, if you bike in hot summers, hats, sunglasses and sun cream should be prepared.
Also read Top Outdoor Activities in Yangshuo.
Recommended Yangshuo Biking Tours
If you are looking for a leisure biking tour in about 2 hours, you will find the following tour packages work for you just fine, of course if you wish to make it a bit shorter or longer, just adjust your pace!
If a relaxing biking tour is not sufficient to feed your appetite, try the following in-depth biking tours, they will allow you to ride for up to 6 hours and you will find that you will enjoy every minute of it!
Latest Tips on Yangshuo Countryside Cycling
1.No bike helmet is available for the biking tour. 2.The street vendors wait at certain spots on the country roads and follow the tourist to sell souvenirs; if you are not interested, do not stop as they take this as a sign that you want something. 3.The roads can be bumpy and pass through villages. It is wise to ride slowly when passing though populated areas.
Questions and Answers About Yangshuo Countryside Cycling
April Offer $25 Coupon
Send your inquiry before Apr. 30, 2014, and we will email you a $25 coupon.
The coupon is valid till Dec. 31, 2014, for paying tour packages worth $250 or up.
The coupon cannot be used for paying flight tickets, train tickets, hotel rooms and day trips.
Travel Advice or Question? Ask us here

China Highlights